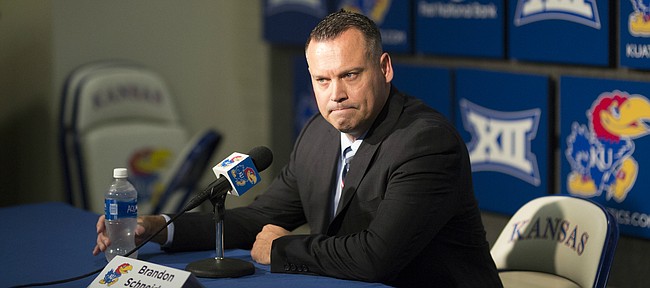 After saying it at Late Night, Brandon Schneider wanted to affirm his message.
Speaking to the media at KU women's basketball media day, the third-year Kansas coach began his opening statement not by pointing out the carryover from the year before, but rather by focusing on the opposite.
"We have seven returners, seven newcomers," Schneider said. "We've overhauled our roster and really feel like we're in the midst of making some major changes from a culture standpoint."
It's certainly the biggest change he's overseen.
Schneider inherited a team in his first season without any seniors, meaning he didn't lose any players to graduation.
There were some opportunities to add transfers, like Jessica Washington, who led the Big 12 in scoring last year and was named Big 12 newcomer of the year. But the roster was largely made up of holdovers from the Bonnie Henrickson era.
The 2017-18 roster has a much more Schneider feel.
"We're getting a lot closer," Schneider said. "We really are."
The difference, Schneider notes, can't be overlooked.
Throughout his first years with the program, Schneider had to work to build trust with his players. He tried to fit them into his coaching scheme and then had to adapt when some, like former forward Caelynn Manning-Allen, couldn't make it work.
For that, this year — and the ones to follow — will see a significant change.
"We have kids that we're recruiting right now that I've been watching since the seventh grade," Schneider said. "When you're dealing with players you recruited, there's already an element of trust and belief, because they chose you and you chose them."
As for the players he's added, Schneider appeared to have two things in mind when assembling the current roster: size and winning.
Let's start with the bigs.
Last year, the Jayhawks were one of the smallest teams in the Big 12, especially after the loss of 6-foot-2 Tyler Johnson, who projected to compete for time as KU's starting center.
Without Johnson, Kansas went significant stretches with a center in Sydney Umeri who was listed at 6-feet. Other teams in the league boasted significant size, all the way up to 6-foot-9, Schneider recalled.
"We've given up too many points in the paint," Schneider said. "There's no question."
Now, things are a little different. The Jayhawks have five scholarship players who can play the five — Schneider says he hopes three will emerge — and may play at times with two bigs on the floor, something that was rare for the team a season ago.
There's a good mix of experience and youth. Freshmen Bailey Helgren, Brittany Franklin and Micaela Wilson were ranked in and around the top 100 of various recruiting services, while transfer Sara Boric and Johnson, returning as a redshirt sophomore, should help bolster the frontcourt.
"It just helps in practice having that person to compete against," Johnson said. "It ups the intensity level."
"We look pretty scary coming off the bus," added junior wing Kyle Kopatich.
Then there's the winning, something the Jayhawks haven't done too much of in Schneider's first two seasons, at least on the court. The Jayhawks went just 8-22 last season after going 6-25 the year before.
But Schneider has started to move things in a positive direction, putting together a recruiting class ranked in the top 25 in the nation by respected recruiting analyst Dan Olson and adding three more recruits to next year's class following Late Night in the Phog — including guard Zay Green, the No. 13-ranked high schooler according to Olsen.
It was for that reason Schneider affirmed his positivity with the direction of the program, especially after noting he hasn't just added talent, but also players he feels can really help build a positive culture.
"Just trying to bring in kids that are accustomed to winning," Schneider said of the current incoming class that includes two players who previously competed for a JUCO national championship. "And that they have a very low tolerance for anything short of that."