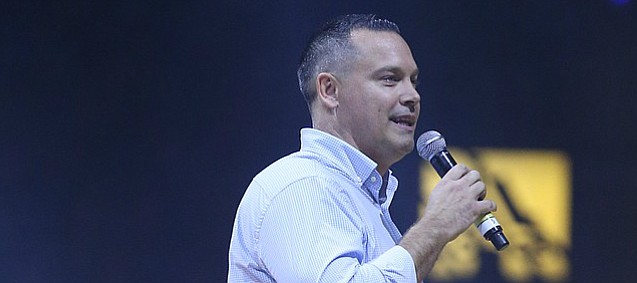 Sure, women's basketball coach Brandon Schneider won big at the Div. II and mid-major levels, but would he be able to go up against heavyweights in recruiting battles and come away with commitments from prospects capable of playing winning basketball in the Big 12?
Based on Sunday's big recruiting news, the answer is yes, yes and yes.
Schneider secured pledges from a trio of seniors who play for perennial Texas and national powerhouse Duncanville High.
Guard Zay Green, ranked No. 13 in the nation by Dan Olson, author of Collegiate Girls Basketball Report, the most respected recruiting website in the women's game, shapes up as a potential game-changer for Schneider.
"The thing I like about her even more than her athletic ability is she's a proven winner," Olson said of Green by phone from his Tampa home Sunday night.
Green was the 6A title game MVP in her sophomore and junior seasons.
"Duncanville vies for a national championship pretty much on a regular basis and is coached by a woman (Cathy Self-Morgan) who has won more than a thousand games and really prepares her players for the next level," Olson said. "And Kansas not only got Zay, but two pretty darn good players to go with her."
Olson ranks forward Star Jacobs No. 122 in the nation and said of unranked point guard Aniya Thomas, "she is more than capable of playing in the Big 12. She is by no means just an add-on player in this group."
Thomas hit five 3-pointers in last season's state-championship game and three in the 2016 title game.
"She's developed nicely," Olson said. "She has deep, deep range and she's a killer on defense. She's a real tempo-destroyer for the other team. And this kid Jacobs is a versatile front-court player. But the cream of the cream is Zay Green."
Olson said he would not be surprised to see Green play her way into the top five in his rankings by season's end.
Schneider's effort to establish a winning culture can only be helped by adding three players who have done nothing but win big.
"Zay's got a great basketball IQ," Self-Morgan told the Dallas Morning News. "It's in her head and in her heart. She's not going to be denied."
The three players will join the program one year after four junior college players and three freshmen formed the recruiting class of 2017.
Several highly ranked prospects from the sophomore and junior classes also attended Late Night.
Things are looking up for Kansas women's basketball, which went 2-34 in Big 12 play in Schneider's first two seasons.