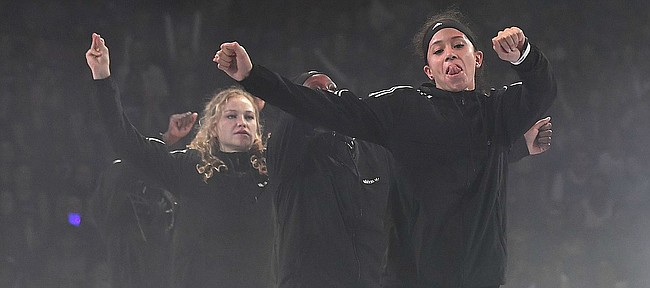 One day after watching all of the Late Night in the Phog festivities, the Kansas women's basketball team picked up three commitments from recruits in attendance on Sunday.
From the Class of 2018, the Jayhawks received verbal commitments from Zarielle Green, Starr Jacobs and Aniya Thomas, who all hail from Duncanville, Texas.
Green, a 6-foot guard, is ranked No. 13 in the nation by Dan Olson of Collegiate Girls Basketball Report. Olson described her as an "athletic big-guard with a scorer's mentality."
"Overall I finally found a place I can call home," Green wrote on Twitter.
Jacobs, a 6-foot wing, is No. 122 in Olson's rankings and the 5-foot-7 Thomas is unranked.
Duncanville, which produced WNBA superstar Tamika Catchings, won its second straight state championship last spring. Green scored 25 points in the title game, while Thomas had 19 points (five 3-pointers) and Jacobs added 17 points and 11 rebounds.