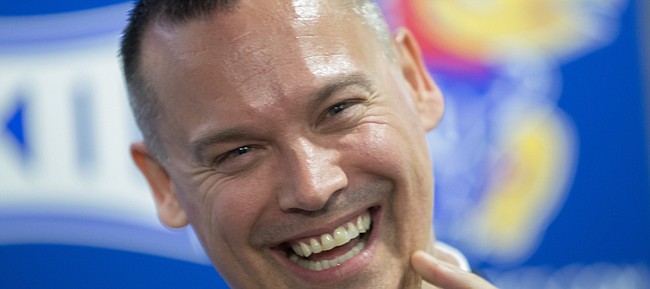 Entering his third season as women's basketball coach at Kansas, Brandon Schneider is almost starting from scratch, welcoming a recruiting class of seven players, including four from junior colleges.
For an objective look at the class, I contacted Dan Olson, widely regarded as the foremost authority on women's basketball recruiting. Coaches from across the country subscribe to Olson's recruiting service, Dan Olson Collegiate Girls Basketball Report, and he compiles team and individual rankings. Olson ranked KU 23rd in the nation and fourth among Big 12 schools, behind Texas (3), Baylor (7) and West Virginia (20) and ahead of Kansas State (25), Iowa State (29), Oklahoma (32) and Oklahoma State (32).
The jewel of the class, according to Olson, is Christalah Lyons, a 5-foot-5 point guard from junior college national powerhouse Trinity Valley CC in Texas. Olson ranked her No. 11 in the nation among juco recruits.
Lyons led her team to a 30-6 record in two seasons and it finished as national runner-up both years.
"She's an elusive, explosive, tough-to-contain kind of guard and she's a more than capable offensive player," Olson said. "Up-tempo basketball is where she's at her best."
Lyons originally had signed with UMKC out of Dallas Skyline High, but went the juco route for academic reasons.
"UMKC was going to get itself one hell of a guard," Olson said. "She really blossomed late and was pretty electric in the state tournament her senior year."
Olson ranked Brianna Osorio, a 5-foot-8 combo guard from Las Vegas who played at College of Southern Idaho the past two seasons, No. 47.
"She can shoot it deep," Olson said. "She's more of a two than a one, but gives them two backcourt players kind of complementary to one another. And she can be a backup point guard, can handle it in a secondary situation."
Austin Richardson, a 6-foot forward from Lee's Summit and Johnson County Community College, who was named MVP of the Jayhawk Conference in her sophomore season, is ranked No. 49 by Olson, who called her, "a late-blooming player with a big upside — long, lean and athletic and can shoot it. Once she gets out on the break, she's pretty good. If (Schneider) can develop those three on the perimeter sooner than later, that's going to help him."
Richardson, Schneider said, will be used as a "three/four."
Ultra-quick, do-it-all senior guard Jessica Washington, Big 12 Newcomer of the Year after transferring from North Carolina, and junior shooter Kylee Kopatich return on the perimeter.
Schneider's other four recruits bring needed size to the roster.
Sara Boric, a 6-foot-5 center from Kotor Varos, Bosnia, spent a season at North Carolina State and one at Northeast Oklahoma A&M; Community College and was ranked No. 59 in the juco class by Olson.
"She's a true center and a defensive presence down low," Olson said. "She has the capability of being a skilled offensive player but she needs touches for that to happen. She can get up and down the court."
Olson ranked 6-foot-8 Joanna Grymek of Krakow, Poland, No. 1 in the juco class and she is a projected starter for Oregon State. He saw Grymek and Boric square off at a Jamboree in October.
"Boric did well," Olson said. "She held her own. Is Boric a No. 1-caliber recruit in the nation? No, not by any means. She's not a consistent finisher, but with post players at a premium, she will aid in depth for the program. She'll give them immediate frontcourt help."
Olson ranked 6-foot-5 center Bailey Helgren from Edina, Minn., at No. 106 in the nation — the highest among KU's three high school recruits.
"She's an interesting player and showed signs of being a very skilled post player," Olson said. "She's a defensive presence down low. She gives him two pure fives on the roster, and that has to help."
Micaela Wilson, a 6-foot-2 forward from Rayville, La., was ranked in the top 25 as a younger player, according to Olson, but has slipped to No. 120 on his report.
"She's a lefty with a nice short-corner jumper," Olson said. "She can get on the class and can handle the ball as a secondary ball-handler, much like Richardson, but Richardson's more athletic. Wilson could blossom into a nice college player."
Olson ranked Brittany Franklin, a 6-foot-5 center from Plymouth, N.C., No. 170 among high school recruits.
"Long, lean, mobile," Olson said. "Is not in the same mold as (Boric and Helgren) in respect to being a physical presence in the post. She's more of a finesse player, and she's a shot-blocker with phenomenal length."
The trick now becomes getting so many newcomers to mesh quickly so that Washington can have more places to go with the ball in her final season.
"It's tough most of the time for junior college players to make the adjustment," Olson said. "If you're outside the top five or 10, it usually takes those kids three-quarters of a year to figure it out. I had Lyons ranked No. 11. She may be the quickest to come to the forefront."
Three transfers — McKenzie Calvert, Jayde Christopher and Aisia Robertson — enabled Schneider to bring in such a big class. Unlike the previous season when Lauren Aldridge, a two-year starter who led the team in scoring as a sophomore, transferred to Missouri, none of the players leaving the program were producing at a high level.
"When you look across the country right now, there are more than 400, sniffing 500 transfers in women's basketball," Schneider said. "A lot of coaches call it an epidemic but it's really just become part of what's going on."
Christopher transferred to Boise State, and Robertson transferred to New Mexico.
"I think those are perfect levels, and those will be good fits for both of them," Schneider said.
Calvert, per her Twitter account, plans to resume her career as a graduate transfer in the second semester of next school year as a junior.
The incoming recruiting class is the first half of what Schneider hopes will be a roster overhaul that establishes the type of team he wants to assemble.
"We inherited the youngest team in the country and our first year here we led the nation in minutes played by freshmen," Schneider said. "We had some transfers and we had some seniors, so we just now are able to make major changes to our roster, seven new ones this year, probably five in 2018, then we'll be hitting a point where everyone who's part of the program, this staff recruited."
All it took a year ago to determine where opponents would try to feed the ball was to glance at Kansas in the layup line in pregame warmups.
"We're a lot bigger overall," Schneider said. "The other thing we've added, excluding the five players with size, we're going to put a real premium in our recruiting positions one through four on being able to shoot. We haven't had the ability to put four shooters on the court. We don't play two bigs, so you want to be able to shoot.
"As good as Washington is at getting in the lane and creating, she needs to be able to have more than Kylee to look for in some of those situations."
Schneider said he hopes the added size will be able to help Kansas at both ends of the floor this season.
"To be able to defend in our league, we needed more size, and hopefully we'd like to be able to throw it inside and get an old-school basket, but we'll see how the summer goes working with these guys," Schneider said. "I think we've upgraded at several positions, definitely bigger and definitely have a lot more to work with on the front line."