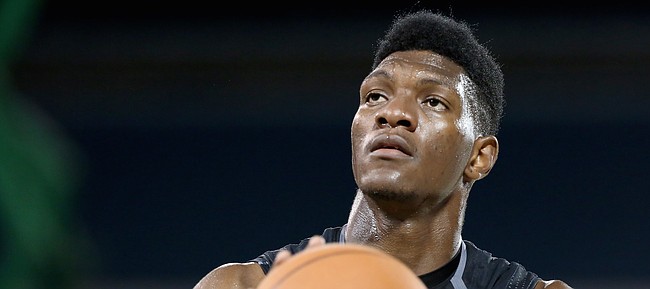 It remains to be seen if he will be eligible to play for the Kansas basketball program this season.
But there's no mistaking that 6-foot-9, 245-pound forward Silvio De Sousa, of IMG Academy by way of Angola, is a Jayhawk.
That fact became official Monday, when the Kansas basketball program announced it had received De Sousa's letter of intent. He joins Class of 2018 prospects Devon Dotson and David McCormack in signing with the Jayhawks during the early signing period, which runs through Wednesday.
Ranked No. 18 nationally by Rivals.com, De Sousa, it was revealed last week, is exploring the possibility of graduating from IMG in December and joining the Jayhawks in time for the second semester.
His guardian, Fenny Falmagne, told the Journal-World last week that they hoped to hear something from the NCAA by Tuesday. But whether he's cleared to come to KU this season or have to wait until next season, his addition will be big for the program.
"He has great size for a true four-type man," KU coach Bill Self said in a press release. "He's very explosive and at one time, a couple years ago, was rated a top-five player in his class. Not participating in the summer grass-roots stuff as much over the past year, his rankings have dropped a little bit, but we feel like he's a top-five talent."
Last season, De Sousa averaged 13 points and seven rebounds per game for IMG Academy and shot 61 percent from the floor. IMG went 28-2 and lost in the quarterfinals of the Dick's High School National Championship.
This past summer, De Sousa represented Angola in the FIBA AfroBasket 2017 in Tunis, Tunisia, where he led Angola with 17 points and 13 rebounds per game and shot 51 percent from the floor while leading his team to the quarterfinals.
Prior to his FIBA competition, De Sousa averaged 20.5 points and 8.2 rebounds for his AAU team, the Florida Vipers this past summer.
"Coach (Kurtis) Townsend has been the point man on recruiting Silvio," Self said. "He's a guy who can provide immediate help the first day he steps on campus. He plays hard and goes after the ball, which reminds me of Markieff (Morris) when he first got to Kansas. He's a guy who can give you points and rebounds early in his career and we feel he has the potential to become a good perimeter shooter."
De Sousa joins a long line of Jayhawks from Africa since 2014.
"It is kind of strange that we went through a period of time that we didn't recruit very many international guys," Self said. "And here of late, from Joel (Embiid) to Cheick (Diallo) to Udoka (Azubuike) and now to Silvio, we've gotten four players from the continent of Africa in the last five years."
Grimes to announce Wednesday
Five-star guard Quentin Grimes, 6-5, 180 pounds from The Woodlands, Texas, revealed on Twitter Monday that he would announce his college decision at 6:30 p.m. Wednesday at a ceremony at his school open to the public.
Grimes, who is ranked No. 11 in the 2018 class, has been a top target of KU's for years and the Kansas coaching staff has stayed aggressive in its recruitment of him.
Both Texas coach Shaka Smart and Self made trips to see Grimes on Sunday night, and many recruiting analysts believe those two programs are his top choices.
The Crystal Ball predictions from 247Sports favor KU, 78 percent to 11 percent over Texas.
Garrett earns honor
Kansas freshman Marcus Garrett has been named the co-Big 12 Newcomer of the Week, the conference announced Monday.
Garrett was a surprise starter in his KU debut, and he recorded a double-double with 10 points and 10 rebounds in a 92-56 Kansas victory over Tennessee State last Friday. The Dallas guard was 4 of 6 from the field with two assists and two steals. His double-double was the first in a Jayhawk debut since the 2003-04 season.
Garrett shared the honor with Texas forward Mohamed Bamba. Oklahoma guard Trae Young was named the Big 12 Player of the Week.