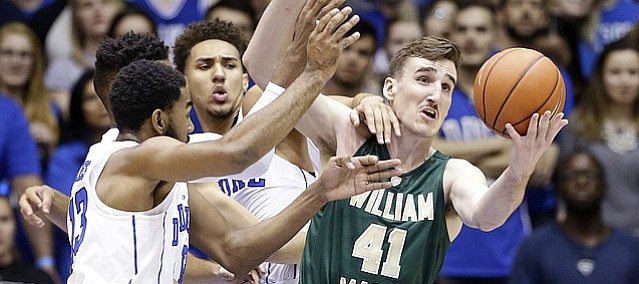 It was a wild 18 hours for William & Mary forward Jack Whitman, the newest Kansas basketball transfer who committed to the Jayhawks on Tuesday morning.
Whitman, who will graduate from William & Mary in a week and a half and, therefore, will be eligible to play immediately, had been looking to take a step up in his basketball career and Kansas provided the perfect situation.
For the 6-foot-9, 235-pound forward who averaged just over 10 points and five rebounds per game at W&M; last season, getting genuine interest from a blueblood program like KU provided the perfect backdrop for a "no-brainer" decision.
After learning about the opportunity to join the Jayhawks and finding out how he could blend in with the current KU roster, Whitman began to discuss things with his family. He also had interest in joining defending national champion North Carolina but quickly canceled his visit after receiving a scholarship offer from KU coach Bill Self on Monday night.
From there, the conversations with his parents turned serious and, less than 12 hours later, Whitman told Self and company he was coming to Kansas.
Not long after that, he was on the golf course, trying to shoot par while daydreaming of his basketball future.
Tale of the Tait
Read more in Matt Tait's latest blog, which provides an overview of KU's current scholarship situation and reasons why the Jayhawks are all right.
"It was a no-brainer for me," Whitman told the Journal-World between strokes. "I want the challenge and I want to see how good I really am. Kansas is a place I can do that."
Whitman becomes the seventh transfer on KU's current roster, joining Dwight Coleby, Malik Newman and Sam Cunliffe, who all will be eligible to play next season, along with transfers Dedric and K.J. Lawson, of Memphis, and Charlie Moore, from Cal. That trio will sit out the 2017-18 season in accordance with NCAA transfer rules.
His presence, buoyed by his veteran status and strong drive to both prove himself and get better, figures to be a nice addition to KU's roster.
With Billy Preston being the only big man in KU's 2017 recruiting class — and preferring to play more on the wing at that — the Jayhawks faced the reality of heading into next season with a fairly inexperienced front court.
With 7-foot center Udoka Azubuike, senior-to-be Dwight Coleby and second-year player Mitch Lightfoot all returning, the bodies were in place. But the experience was not.
That foursome, including the newcomer Preston, combined to play 378 minutes in 61 games last season, with Lightfoot leading the way, with 26 games played, but also averaging the fewest minutes per game of that trio at 3.9.
Azubuike, who started six of the 11 games he played in appeared to be well on his way to becoming a force inside for the Jayhawks before a wrist injury before Christmas cost him the rest of the season.
Self has said in recent weeks that Azubuike's rehab was right on schedule and the big man from Nigeria figures to be a sure-fire starter heading into next season.
How Whitman factors into that front court remains to be seen, but his experience and size figure to give him a chance to at least compete for minutes and that's exactly what he hopes to do. Whitman, who said he would join the Jayhawks as a scholarship player, said the KU coaching staff did not go into too much depth about how he would factor into the rotation, only that he would get a chance to compete and earn playing time.
Whitman said he considered himself more of an athletic forward than a bruiser and added that he would like to develop into a stretch 4 man during his time with the Jayhawks.
"I wouldn't consider myself a 4 man right now," he said. "I definitely played with my back to the basket more at William & Mary but I'm hoping to expand my game."
That was a big reason he believed Kansas was the place for him. Not only are the Jayhawks one of the elite programs in college basketball, Whitman said he also has admired from afar Self and his staff's ability to get the most out of players, particularly big men.
"It was just the absolute right fit for everything I was looking for," Whitman said. "I wanted to go to a higher level than William & Mary, which Kansas obviously is, and I wanted to go somewhere I felt I could really develop."
Whitman said he hoped to wear No. 41 with the Jayhawks because he had worn it since his high school days and said the rest of the details as far as his arrival date and future roommate were still up in the air.
"I'm pretty excited," he said. "It's sunk in a little bit, but it definitely hasn't sunk in all the way."