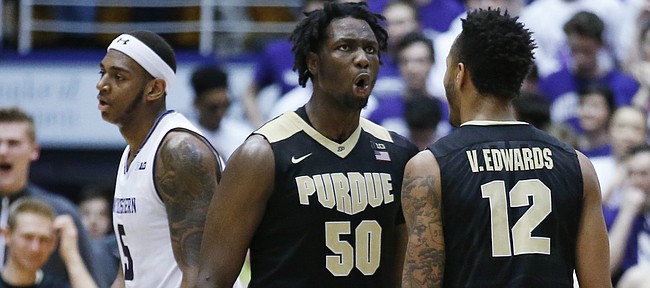 An opponent of each team during the 2016-17 season, Nebraska basketball coach Tim Miles on Monday broke down top-seeded Kansas' upcoming match-up with fourth-seeded Purdue, set for approximately 8:39 p.m. Thursday in the Sweet 16 in Kansas City, Mo.
"It's an interesting match up because this Purdue team reminds me of some of the older Kansas teams when they were so physically imposing inside," Miles told the Journal-World.
Miles, whose Huskers lost, 89-72, on Dec. 10 in Lawrence and defeated Purdue, 83-80, Jan. 29 in Lincoln, Neb., said it was such an intriguing match-up that he was thinking about making the drive down.
"I'd like to be a spectator for that," he said. "It'll be a good one."
While most of the focus in the days leading up to Thursday's Sweet 16 clash figures to focus on how the Jayhawks (30-4) will handle Purdue big men Caleb Swanigan (6-foot-9, 250 pounds) and Isaac Haas (7-2, 290), Miles said guard play should not be overlooked.
Not only do the Jayhawks feature three of the best guards in the country in Frank Mason III, Josh Jackson and Devonte' Graham, but Purdue (27-7) also has a talented backcourt that shoots the heck out of the ball — the team's 40 percent 3-point shooting led the Big Ten — and complements the Purdue big men perfectly.
"Swanigan is a legimate NBA power forward," Miles said. "He really is a special player. And they're a tough out. Their guards are really smart guards. They're not as prolific as the Kansas guards, but they're really smart, they take good shots, they put the ball where it needs to go, they make the extra pass. They're a well-put-together team."
As with any game, match-ups will be a huge factor in this one, and Miles said he was looking forward to finding out how each coach approached the chess match.

"The lineup that will be interesting is when Purdue plays Haas and Swanigan against Jackson and (Landen) Lucas," Miles said. "Something's gotta give. If Josh plays anywhere close to what he did against Michigan State, holy cow. He was terrific. But it'll also be a different challenge for Josh than (MSU forward) Miles Bridges was. Swanigan's physicality is far greater than Miles'. It's guarding a totally different dude."
To that end, Miles said one thing that might work in KU's favor is that Purdue's best moments throughout the season seemed to come with Haas on the bench.
When that's the case, 6-8, 225-pound junior Vincent Edwards plays the four and, according to Miles, that pairing is a much more natural match-up for both teams, with Edwards guarding the 6-8, 207-pound Jackson and vice versa.
Miles said Nebraska's strategy to slow down Swanigan, who, along with Mason has been in the running for several national player of the year honors, was simple.
"We had to double the crap out of him and just make a mess of everything inside," Miles said. "And we did a good job of it. We also made some shots, which helped us."
The Cornhuskers also made Purdue's double-double machine (Swanigan enters Thursday with 28 double-doubles in 34 games) work for his 14 points and 14 rebounds. He finished 5-of-15 shooting and also added six assists and four turnovers in 34 minutes .
When Nebraska came to Allen Fieldhouse, Miles had the challenge of game-planning for something the Boilermakers will not have to — 7-foot KU freshman Udoka Azubuike, who scored seven points and grabbed six rebounds in 16 minutes against Nebraska, his second to last game of the season.
Azubuike's absence, Miles said, is a blow to the Jayhawks, who, as they have done all season, again will be tasked with creating an advantage from their four-guard lineup.
"They get really small in a hurry," Miles said of Kansas. "But they're unbelievable with those guards, offensively. They can get you in transition, they can get you from three, they can get you in a hurry.
"You gotta score a lot of points to beat those guys. And there's no doubt that Purdue can score, but they will control the ball, control the tempo much more than that, and they will work from the inside out like some of Bill's earlier teams."
After going over the scouting report for Purdue on Monday, the Jayhawks will get back on the practice court Tuesday and will host an open practice at Sprint Center — free of charge to the public — from 3:10-4:00 p.m. on Wednesday.