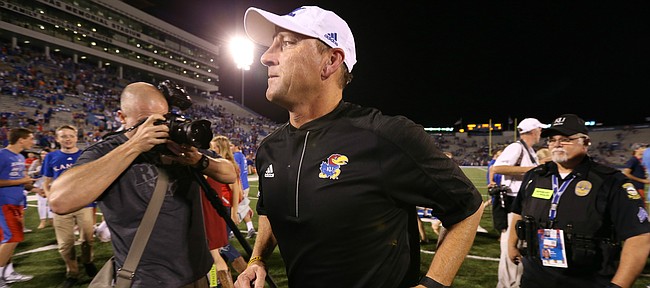 Now that David Beaty has put in two-plus years worth of work into a massive reclamation project as the head football coach at the University of Kansas, one area where he can see real progress is on the scholarship front.
While fielding questions from fans at a recent meet-and-greet, Beaty was asked about the Jayhawks' roster reaching the NCAA maximum of 85 scholarship players. KU isn't quite there yet, but the third-year coach said the program is much better off than when it played with 58 such athletes at TCU in his first season and only lost by six points.
Beaty said the staff is taking creative avenues to reach its roster capacity and expects to have about 76 scholarship players in the mix this coming fall.
The program's scholarship numbers took significant blows prior to Beaty's arrival, with players leaving for various reasons as KU transitioned from head coach Mark Mangino, to Turner Gill, to Charlie Weis to Beaty.
"It's going to take us a full five years from when I started," Beaty said of getting Kansas back to the desired number, 85.
This past December, following his second year at KU, Beaty signed a two-year contract extension that runs through the 2021.
Upgrading for future
In the wake of KU athletic director Sheahon Zenger announcing a $300 million project to renovate Memorial Stadium and further improve KU's football facilities, Beaty was predictably upbeat.
"That stadium is going to be off the chain, because you deserve it," the coach told fans in Kansas City, Mo., this past week.
Still, Beaty added, he knows KU's fan base wants to see an improved on-field product as well.
"We've worked at that," Beaty said. "… I'm just so excited about what the future looks like."
In 2015, Beaty's first year, KU went winless. In 2016, the Jayhawks finished 2-10.
Positive buzz
Despite the program's stretch of eight consecutive losing seasons, current players have noticed KU gaining momentum this offseason.
Appearing on KLWN's Rock Chalk Sports Talk this week, linebacker Joe Dineen said he gets the sense more people are paying attention to Kansas football.
"I think there's a buzz around it this year. In my time here, there hasn't been this much excitement for a season and it's really good to see," Dineen said.
While Dineen grew up in Lawrence, KU running back Khalil Herbert, from Coral Springs, Fla., also noted KU's brand headed in the right direction.
"Even back home people are asking about us," Herbert said on KLWN, "because they're hearing about us all over the country. It's kind of crazy that people are starting to look at Kansas differently, I feel like."