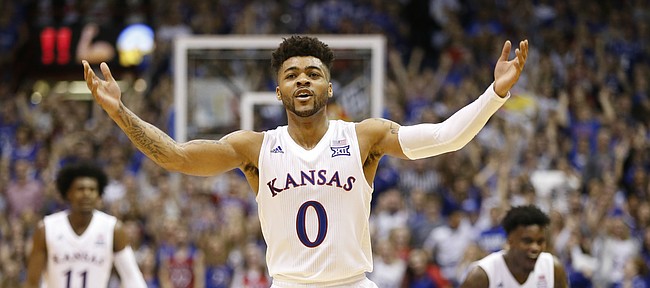 One of the most beloved and popular players in the history of Kansas basketball is getting his shot in the NBA and he's doing it with a franchise with which KU fans are familiar.
The Sacramento Kings struck again Thursday night, selecting Kansas point guard Frank Mason III with the 34th overall pick in this year's NBA Draft, four picks into the second round.
Forget that things did not work out for previous Jayhawks turned Kings Thomas Robinson (No. 5 overall in 2012) or have not yet fully worked out for restricted free agent Ben McLemore (No. 7 overall in 2013). Those were the Kings of old. Mason is a part of the Kings future and Kansas coach Bill Self believes his rock solid point guard will play a huge role in moving that franchise forward even as a second-round selection.
"His value will be (worth) even more than what he does on the court," Self said of Mason. "Because he'll bring a toughness to their culture that'll be very positive. I think he and De'Aaron Fox (Sacramento's first-round pick) both will be great for that franchise together."
For the better part of the past month, folks from the Kings organization had been in contact with Self, sharing their love of the gritty guard with the KU coach.
"They brought him out there twice to work him out and we thought that (pick No.) 34 would be a good backstop for him," Self said. "We didn't think he would fall past that."
That was before the Kings took Fox. After they did that, Self and company began to wonder if Mason would stay on the board a little later into the second round. He didn't, of course, being taken just after 10 p.m. central time.
"That tells me right there how much they liked Frank," Self said. "That they wanted him on the roster so much after they took Fox. I think it's a great place for him. I think he'll have an opportunity to not only make the team but play a lot."
Mason, who at the end of the first round posted a subtle message on Twitter that seemed to reference teams sleeping on him was back on Twitter after the draft but with a much different tone.
"Thanks for believing in me Sacramento Kings," Mason wrote. "I promise you won't regret it."
Only first-round picks are guaranteed money in the NBA Draft, but Mason's status as a high second-rounder proves just how much he impressed scouts and NBA executives during recent weeks, climbing all the way from out of the draft or late second round to the doorstep of the first round.
Mason and former KU freshman Josh Jackson (No. 4 overall to Phoenix) became the 22nd and 23rd Kansas players during the Self era to be drafted into the NBA.
The Kings have been one of the worst franchises in the NBA in recent years, but none of that mattered to Self, who not long ago, called Mason the best guard he's ever coached.
The only thing that mattered to the Kansas coach was that his guy was getting a shot. Forget the city, forget the franchise's record, forget the players on the roster around him.
"Frank is gonna will his way to make it no matter what," Self said. "His legacy at Kansas is cemented and nothing can change that. But I'm just so excited for him that now he's gonna get a chance to provide for himself and his family in ways that he never would've dreamed possible five years ago."