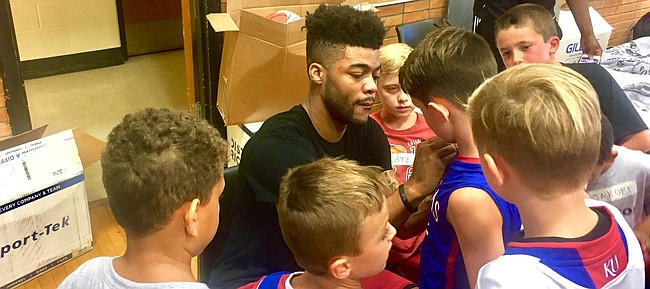 Back in Lawrence for the second of a four-leg summer camp tour that started in Olathe on Thursday, continues Saturday in Wichita and will wrap in his new home of Sacramento next week, former Kansas point guard Frank Mason III used some of his spare time this week to try to make special arrangements to join the Jayhawks in Italy.
No, Mason did not expect to find a way to slap on his old No. 0 jersey and help the team on Italian soil the way he did in South Korea two summers ago, but just being there in any capacity sounded awfully sweet to the reigning national player of the year.
"It definitely feels weird to me (to not be going)," said Mason from the Lawrence High gym between sessions of Friday's camp. "I was just thinking about it and trying to figure out a way to get out there and be with those guys, even if I was just in the stands."
But it was not to be.
Other obligations, including his camp in Sacramento on Aug. 5, kept Mason from purchasing the plane ticket, but he did take a peek at what it would take to get over there to support his former teammates.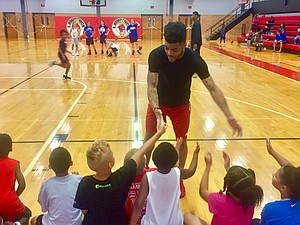 That concept is a two-way street, with three current Jayhawks pitching in to help Mason conduct his camps. While it's Mason's face on the T-Shirts and name on the camp, he said it would not have been as successful as it was without the contributions of Malik Newman, Devonte' Graham and Udoka Azubuike. All three current KU players helped out in Olathe and Lawrence. And the same trio is expected to show up in Wichita on Saturday.
"It means a lot to have those guys here," Mason said. "I think the campers love them just as much as they love me and just having those great role models here to give knowledge to the kids and just show how much they appreciate the fan support is really big for the community."
As for how they'll do in Italy without him, Mason said he would be watching as much as possible and added that he believed the trip overseas could do as much for this year's KU team as the journey to Korea in 2015 did for that group.
"Definitely," Mason said. "I think they're headed over there to get a couple early games in and play some professional teams or whoever they'll be playing and I think it'll be really good for them and I hope they do good. I'll be rooting for them."