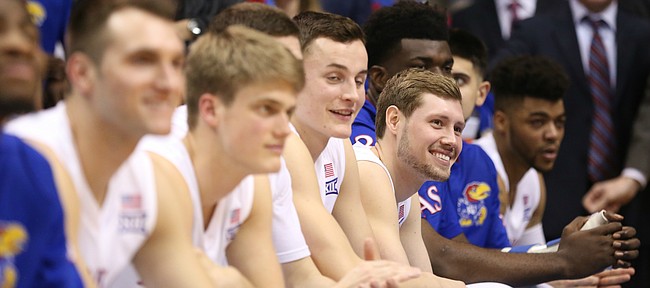 Tyler Self is headed to the NBA.
But unlike his former Kansas teammates, Josh Jackson and Frank Mason III, who will be donning the jerseys of their new teams, Tyler Self will be wearing a suit and tie.
This spring, in the weeks that followed the end of Tyler's five-year playing career at Kansas, the son of Kansas coach Bill Self learned that an opportunity to work for the San Antonio Spurs was available and, without hesitation, he jumped on it.
Officially, Tyler signed a one-year deal to be a Basketball Operations Quality Assurance Assistant with the Spurs. His first day is set for Aug. 14 and it won't be until he gets down there in early August that he'll know exactly what the day-to-day duties of the job include.
One thing he already knows, however, is that the NBA is the place for him.
"I don't really know when I thought I wanted to get into the NBA and I'm not sure what made me make that decision," he recently told the Journal-World. "It's something different and gives me an opportunity to get out and make my own way a little bit and get out from under my dad's name somewhat."
Fully aware of his desire to join the highest level of the game, Tyler visited the organization for Game 2 of the Spurs' playoff series with Memphis in May.
"I went down and got to check out the organization and meet a bunch of people and it just seemed like an amazing organization that I'd love to work for," Tyler said. "And it's all kind of fallen together from there."
With his specific role with the team still to be discovered, Tyler said he thought his five years on the bench at KU have positioned him well to handle whatever it is the Spurs ask him to do. If he gets to work with the players on the court, that's something that will come naturally to him. If it's more front-office type stuff off the court, that's something he's eager to learn. Either way, he believes the experiences of the last five years will aid him in whatever situations arise.
"I do think my time at Kansas will definitely help me in working with the guys, whether that's on the court or away from the court," Tyler said. "Just being around the game and being around the great minds that my coaches have has taught me so much."
Having close ties to Spurs general manager R.C. Buford, who worked with Self at Kansas and whose son, Chase, was a walk-on at KU from 2007-10, Tyler's father said he was thrilled to see his son land such a sweet gig after graduating.
"Landen (Lucas) and Frank are going to continue to play professionally, which is awesome," said Self of the two other members of his son's senior class. "And Tyler has an opportunity to stay in the business and work with an organization that's as good as there is in professional sports. I know he's excited to go down there and work with those guys."
As for whether this could be the first step on a path that one day leads to coaching, the father-son duo have slightly different perspectives on that at the moment.
"That would be so far down the line that I haven't even thought about it and it's a little far-fetched to think about right now," Tyler said. "But you never know what can happen."
Added his dad: "I think he's got the bug."
Still working on his KU Masters degree in Business Administration — he'll finish that about the same time he finishes with the Spurs — Tyler said the last month or so was spent working camps and preparing for the big move.
"I'm not gonna be picky about what I want to do or what they ask me to do, but coming into it I definitely think that more management stuff is something I want to do long term," he said. "But I also would have no problem being on the court more and interacting with players, too. I kind of feel like that's something I know better as of now. But whatever happens, happens, and I'm just really thankful and looking forward to the opportunity."