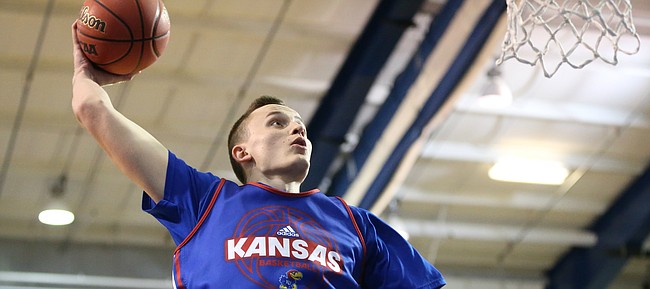 Kansas forward Mitch Lightfoot will be held out of contact for the next few days after completing surgery for a broken nose, Kansas coach Bill Self said Friday.
Lightfoot, who, according to Self, had been one of the stars of the summer for the Jayhawks, suffered the injury during a recent practice and will be limited to basketball-only related drills until he is cleared to resume contact.
Self said Lightfoot is still expected to play during the team's upcoming trip to Italy.
"We think so, Self said when asked if Lightfoot would be eligible to play overseas. "But if he plays he'll have to wear a mask."
Self said Lightfoot's injury was the only significant setback the Jayhawks have dealt with this summer.
Kansas will leave for Italy on July 31 and has practiced five times in preparation for the four exhibition games thus far. The five remaining practices allowed by the NCAA will take place Sunday, Monday, Tuesday and Wednesday, with the final session set for July 30.
"They've been OK," Self said of the pre-Italy practices. "We haven't looked very good, but we've only practiced five times."