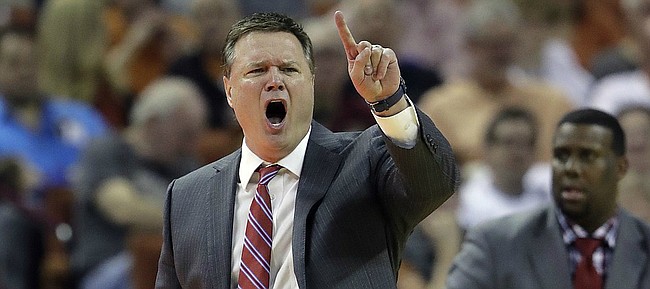 Although news of forward Jack Whitman's departure from the program caught him "totally off guard," Kansas coach Bill Self already has started thinking about what to do with the scholarship vacated by Whitman's departure.
During a Friday morning phone conversation with the Journal-World, Self, who had just returned to town from a recruiting trip, said he would like to add someone in time for the upcoming season but was not sure he and his staff would be able to find a player worthy of the roster spot.
"We're not gonna sign somebody just to sign somebody," Self told the Journal-World. "The pool of players is so small."
While Self said later at the Hardwood Classic AAU tournament in Lawrence that he was "disappointed" by Whitman's departure, the Kansas coach said there was a small silver lining.
"Better now than in the fall," Self said. "If there is a good thing, although it's crappy timing, if it happens in the summer you can use that scholarship. So we didn't lose the scholarship."
Self said he would consider all options in looking to fill the Jayhawks' 13th scholarship, including junior college transfers, high school players and even players from overseas. He even joked that the team might be lucky and find some Italian player to join the roster during their upcoming exhibition tour in Italy, though the likelihood of that is a long shot at best. Self also said he would consider holding onto the spot for a potential December transfer should one come available.
"The idea is to find someone to help you this year," he said. "I think that's the best way to put it. But if you can't find someone to help us this year, there's no reason to burn it."
As for any clarity on why Whitman left, Self said he was still unsure as to the exact reason and added that Whitman was already back in his hometown of Lexington, Ky., when he made the call to tell Self he was leaving the program.
Despite the loss of a player who figured to be KU's fourth big man during the 2017-18 season, Self said the immediate impact was not as bad as some might think.
"This does not affect us on how we will play as long as everyone's healthy," Self said. "If you have an injury, that will obviously change the way we play a little. But, right now, I still see us playing two bigs more than we did last year.
"We've gotta get our best players on the floor and we've got a pretty good seven or eight right now. And that wasn't including Jack. So not having Jack doesn't affect how we play at all. Where it could affect us is, if a guy becomes injured, now you're gonna probably be playing small a lot more."
Staying healthy is a key part of any team's success so nothing changed for the Jayhawks there. And Self will spend the next several days, including Friday, looking at every possible avenue to add a player who could impact the team in a positive way right away. He said the chances of adding such a player before the trip to Italy were "next to zero," but added that he would still have time to look around at potential additions after their return on Aug. 8.
"We'll go wherever we have to to find a body," Self emphasized. "But the chances of finding somebody I don't think are real high."