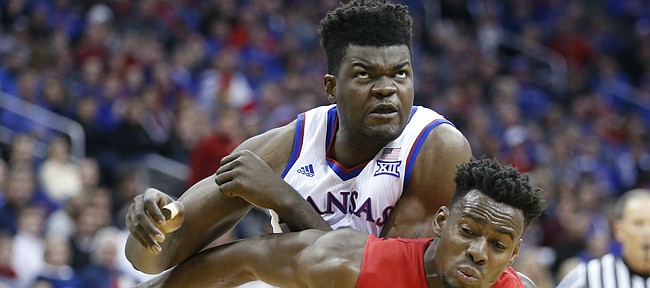 With its front court depth taking a hit with the unexpected departure of transfer forward Jack Whitman on Wednesday night, the Kansas men's basketball team got some good news in the big man department.
Two writers who covered this week's Under Armor All-American camp, where KU big man Udoka Azubuike, along with junior guard Lagerald Vick, have worked as camp counselors, had glowing reviews for the 7-foot Nigerian's current play.
"If Udoka Azubuike can make even 50 percent of his shots in the lane, he's going to put up numbers," ESPN's Jeff Borzello Tweeted on Wednesday night. "Getting position every time down the floor, defenders either fouling him or letting him go."
Added Jon Rothstein, of CBS Sports, also via Twitter: "Another observation from UA All-American Camp? Udoka Azubuike is going to have to make free throws for Kansas. Brutal to handle down low."
KU coach Bill Self has said on multiple occasions since Azubuike injured his right wrist and missed most of the 2016-17 season that he did not expect the young big man to be able to play 35-40 minutes a game for the Jayhawks this season.
Heck, even getting to 30 on some occasions might be a challenge given his post-injury conditioning and propensity to foul.
But even if Azubuike is limited to life in the high-20s, if he can deliver the kind of impact that Borzello and Rothstein have talked about this week, it would go a long way toward helping KU's offense and creating an environment where the Jayhawks would have to worry less about their depth in the front court.
That's on offense.
Defensively, there are bigger questions and KU coach Bill Self referenced them during a recent meeting with the media.
"I think he'll foul a lot," said Self, when asked about his defensive expectations for Azubuike. "I think he'll be really good at that early on.... (But) he'll get better at that."
Just simply playing should be enough to help Azubuike improve in that department. Remember, we're talking here about a still-young player who appeared in just 11 games as a true freshman. During those games, he fouled often, finishing with an average of 8.7 fouls per 40 minutes. But, despite starting the last six games he played in, many of his minutes came with very little pressure given the fact that veteran big man Landen Lucas also was on the roster.
With Lucas now gone and only sophomore Mitch Lightfoot and true freshman Billy Preston on the roster to help handle the load inside, Azubuike inherits a much more important role for the 2017-18 team. His play, on both ends, but particularly on defense, could go a long way toward determining just how successful the backcourt-heavy Jayhawks will be this season.
"He should be a better rim protector (than anything we had last year)," Self added of his expectations for Azubuike. "And I don't know that he will be but he should be a better defensive rebounder."
Sophomore guard Malik Newman, who sat out the 2016-17 season after transferring from Mississippi State, is one Jayhawk counting on Azubuike to deliver in both areas Self mentioned. And Newman, through his time practicing with the Jayhawks during his transfer year, has seen first-hand just how much of an impact the 7-foot Nigerian center can have when he's on the floor.
"He's a brick wall," Newman said of Azubuike. "I think that's a great way to describe him. He's big, he's athletic, he's able to move, so he's a great presence on defense. He's one of those guys that, you can gamble, and even though coach will be mad at you, 'Dok can take some of that pressure away by being a rim protector."