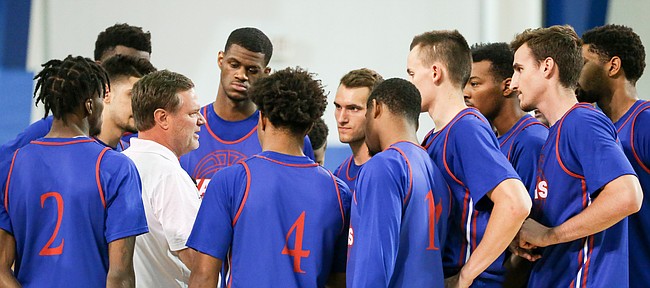 A source close to the Kansas basketball program confirmed to the Journal-World on Wednesday night an earlier report from ESPN's Jeff Goodman that William & Mary transfer Jack Whitman had decided to leave the program.
Whitman informed Kansas coach Bill Self of his decision Wednesday night, the source said.
A graduate transfer who joined the Jayhawks this spring and would have been eligible to play during the 2017-18 season, Whitman has decided to leave the school, according to the source, and it is not yet clear if he plans to play out the final year of his basketball career elsewhere.
The news comes at a tough time for Kansas, which is set to embark on its overseas exhibition trip to Italy in just 11 days. Beyond that, his departure leaves the Jayhawks with just eight scholarship players who are eligible for the first semester of the 2017-18 season. That number will grow to nine at the end of the first semester when Arizona State transfer Sam Cunliffe becomes eligible and could climb back to 10 if KU coach Bill Self elects to fill the scholarship vacated by the 6-foot-9, 235-pound Whitman's departure.
While that seems like a likely prospect, it's not as if Self has a ton of options. Most, if not all, of the top talent in the 2017 class is already committed and there are not a lot of available big men out there who could impact the roster at a place like Kansas.
One option is junior college. Another is a possible reclassification by a prospect currently in the Class of 2018. Rumors that top-ranked 2018 prospect Marvin Bagley III is considering reclassifying surfaced this week and many KU fans are connecting that rumor to the Whitman news. But there has been no indication of anything substantial in that department at this point.
What is concrete is that Whitman's departure leaves the Jayhawks with just three big men entering the 2017-18 season and one of them, freshman forward Billy Preston, has shown a preference to play on the perimeter.
Joining Preston is sophomore center Udoka Azubuike, a man big enough to count for two bodies but still only given five fouls, and Lightfoot, a sophomore-to-be whom Self said recently had turned in a terrific summer and was gaining confidence by the day.
While that sounds thin, it's really not that much different than what the Jayhawks endured a season ago, when Landen Lucas, Carlton Bragg Jr., Lightfoot and Dwight Coleby accounted for the bulk of the KU's depth in the front court after Azubuike went down with a wrist injury in late December.
Both Coleby and Bragg elected to leave KU in search of other opportunities this offseason.
Then-freshman Josh Jackson's versatility and ability to play multiple positions helped KU survive the thin front court a season ago, but it is unlikely that either 6-5 guard Lagerald Vick or 6-8 guard Svi Mykhailiuk would be able to be as effective, particularly on defense, as Jackson was at the 4 spot.