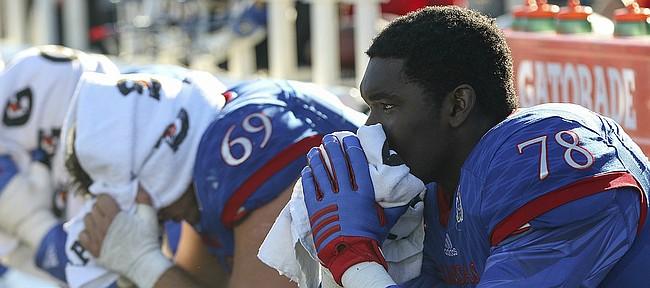 It has become a conference tradition.
Every year since the Big 12 scrapped divisions following the 2010 season, the Kansas football team has been picked by media members to finish last in league play.
The Jayhawks' undesirable streak reached seven years on Thursday, when the Big 12 released the 2017 preseason poll.
The projected standings have proven accurate in five of the past six seasons. Only in 2014 did KU surpass expectations. That year the Jayhawks finished ninth, with a 1-8 mark and a one-game lead over 10th-place Iowa State, which went winless in league play.
In its' five 10th-place seasons during that stretch, KU went 0-9 in 2011, 2012 and 2015, and 1-8 in 2013 and 2016.
As tends to be the case, Oklahoma sat atop the predicted conference standings, with 19 of the 32 first-place votes.
The Sooners' rival, Oklahoma State, was picked second and received 12 first-place votes.
KU's rival, Kansas State, received one first-place vote and was chosen as the No. 3 Big 12 team in the preseason poll.
OU was picked to win the conference for the fifth time since 2011.
Just as KU has been picked 10th for seven consecutive years, Iowa State also has been predicted as the ninth-place team every year since 2011.
The Big 12 Championship Game resumes in 2017 after a six-year absence, and will feature the top two finishers in the final league standings.
2017 BIG 12 FOOTBALL MEDIA PRESEASON POLL
— First-place votes in parentheses, followed by total poll points
1st. Oklahoma (19) - 303
2nd. Oklahoma State (12) - 294
3rd. Kansas State (1) - 231
4th. Texas - 213
5th. TCU - 202
6th. West Virginia - 183
7th. Baylor - 129
8th. Texas Tech - 85
9th. Iowa State - 83
10th. Kansas - 37