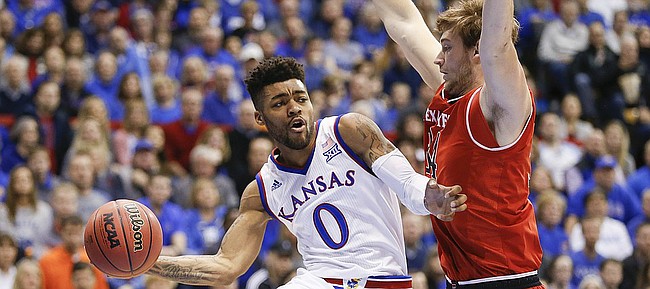 No. 2 Kansas Jayhawks (15-1 overall, 4-0 Big 12) vs. Oklahoma State Cowboys (10-6 overall, 0-4 Big 12)
Time: 1 p.m. | Location: Allen Fieldhouse, Lawrence, Kansas
TV: ESPN2 | Radio: IMG Jayhawk Radio Network
Log on to KUsports.com for our live game blog coverage and follow the KUsports.com staff on Twitter: @KUSports @mctait @TomKeeganLJW @bentonasmith & @nightengalejr
Keys for Kansas
1. Get after it on the glass
Landen Lucas delivering a fourth double-digit rebound effort in KU's fifth Big 12 game would go a long way toward helping the Jayhawks top the Cowboys, but Lucas is going to need some help on the defensive glass in this one.
The Cowboys, who play fast and emphasize a relentless attack of the glass, have been terrific on the offensive boards, picking up an average of 15.5 offensive rebounds per game — compared to 12.4 per game for Kansas — and featuring eight players in double figures in that category, including four with 21 or more so far this season.
The Jayhawks have the necessary pieces to control the boards, with Lucas' size and the length and athleticism of players like Josh Jackson, Lagerald Vick, Carlton Bragg and Sviatoslav Mykhailiuk. But the most important quality that could factor into this rebounding battle is desire.
KU, which ranks fourth in the conference in defensive rebound percentage (.708), showed great intensity and desire to hit the glass in the second half of Tuesday night's comeback victory at Oklahoma and a similar effort for 40 minutes in this one should serve the Jayhawks well.
2. Take care of the ball
One way the Cowboys hope to pull off the upset is by forcing Kansas turnovers.
OSU, which ranks fifth nationally in turnovers forced (294, 18.4 per game), is third in the Big 12 in turnover margin (+3.8) and sits behind only West Virginia's ferocious attack known as Press Virginia, which is forcing 24.8 per game, tops in the country.
Although Kansas, with its guard-heavy lineup, seems to be poised to handle pressure and suffocating defense, the Jayhawks have not seen a ton of that this season. KU has played just four teams in the Top 100 in turnovers forced and just one in the Top 50. The Jayhawks' lineup could have something to do with that, but now that Big 12 play has arrived KU is not going to see many teams altering the way they play.
The style that made first-year OSU coach Brad Underwood one of the hottest names in the country after a successful stint at Stephen F. Austin, has taken root at Oklahoma State and turned the Cowboys back into a defense to be reckoned with.
3. The Forte Factor
As he has proven in the past, the 5-foot-11, fifth-year senior from Flower Mound, Texas, whose father, Phil Sr., played football at Kansas, has the potential to take over games with his long-range shooting.
No spot on the floor is too deep for Forte when he gets in a rhythm, and his confidence and competitiveness have created a fearless shooter who can single-handedly put a team on his back on the offensive end of the floor.
Forte enters Saturday's game shooting .396 from three-point range (42 of 106) and averaging 14.1 points per contest with 20 steals and a .961 percent clip from the free-throw line.
In three career trips to Allen Fieldhouse — including an OSU win during his freshman season — Forte is averaging 17 points per game and has connected on 9 of 20 three-pointers, including an incredible 7-of-10 effort during his sophomore season.
This guy has been around long enough for KU's veterans to know how important he is. Now it's just a matter of finding a way to stop him.
Mega Matchup
Frank Mason vs. Jawun Evans
This showdown of the top two scorers in the Big 12 figures to be exciting from start to finish and should be one of the best individual match-ups we'll see all season. With KU's defense called into question during recent weeks, Mason will face his biggest test to date in the form of the 6-foot-1, 185-pound, lightning-quick guard who lit the Jayhawks up for 22 points, 8 assists and 6 rebounds in a 19-point OSU win last season in Stillwater.
Evans was injured during the rematch so this will mark Mason and the Jayhawks' first opportunity to face the talented sophomore since that night. One of the biggest things to watch in this match-up is size vs. quickness.
Mason, who leads the Big 12 at 20.4 points per game, has been next to impossible to stop driving to the rim and Evans will have no chance at recovering if Mason gets his hips and shoulders by him on the drive. So look for the OSU guard to pester Mason into giving up the ball early and watch to see if Mason can stay in front of Evans long enough to prevent him from attacking the paint and setting up easy shots for opponents.
Jayhawk Pulse
After a Jekyll and Hyde kind of night on Tuesday in Norman, Oklahoma that was capped by Kansas playing its best half of the season, the Jayhawks return home for a match-up with a new-look Oklahoma State team that is better than its record might indicate.
While sitting at 0-4 in the conference, three of the Cowboys' losses have come to West Virginia, Baylor and Iowa State, three teams that have spent the better part of the season in the Top 25.
Although operating with a new coaching staff and a handful of new faces, there are a few OSU players who know what it's like to beat Kansas. Oklahoma State is the only Big 12 team to have knocked off KU in each of the past four seasons and, because of that, the Cowboys certainly have KU's attention.
The Jayhawks, though riding a 15-game winning streak and poised to climb into the No. 1 spot in the polls with a victory, remain focused on getting better in a few key areas — defense, free throw shooting and production up front.
Kansas has seen signs of improvement in all three areas during recent games but has yet to put together a complete effort that showcases all three of them, something head coach Bill Self remains in search of as the team reaches the midway point of the 2016-17 regular season schedule.
Probable Starters
No. 2 Kansas
G – Frank Mason III, 5-11, 190, Sr.
G – Devonte' Graham, 6-2, 185, Jr.
G – Josh Jackson, 6-8, 207, Fr.
G – Sviatoslav Mykhailiuk, 6-8, 205, Jr.
F – Landen Lucas, 6-10, 250, Sr.
Oklahoma State
G – Jawun Evans, 6-1, 185, Soph.
G – Phil Forte, 5-11, 195, Sr.
G – Jeffrey Carroll, 6-6, 215, Jr.
F – Leyton Hammonds, 6-8, 215, Sr.
F – Cameron McGriff, 6-7, 210, Fr.