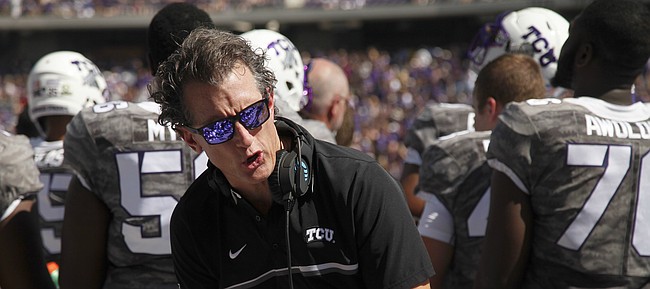 Offensive coordinator Doug Meacham is Kansas head football coach David Beaty's highest-paid assistant coach, associate head coach/running backs Tony Hull received the biggest raise and Clint Bowen had his pay boosted by $100,000, according to salary information supplied by KU Athletics.
Meacham, hired away from TCU, will earn $520,000, Bowen $500,000 and Hull $400,000, placing him $1 ahead of co-defensive coordinator/cornerbacks coach Kenny Perry ($399,999).
Special teams coach Joe DeForest earned an $80,000 raise to $300,000, offensive line coach Zach Yenser a $27,000 pay hike to $247,000 and linebackers coach Todd Bradford a $25,000 raise to $245,000. Defensive line coach Mike Slater again will earn $170,000 and quarterbacks coach Garrett Riley will make $250,000.
Beaty had his salary doubled to $1.6 million.
Kansas will pay nine assistant coaches $3,031,999 in 2017, compared to $2,299,999 for 2016.