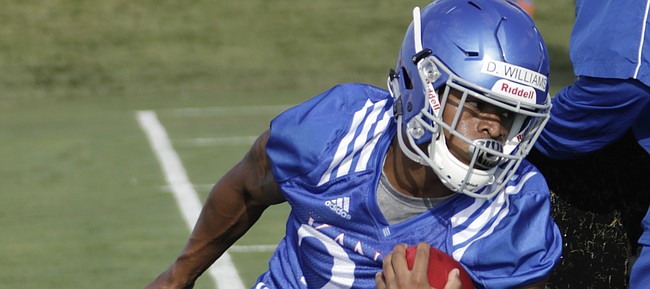 This time of year, with more than 20 practices remaining before the season-opener, Kansas head football coach David Beaty doesn't mind spreading the love, and praising the numerous players who have found various ways to impress him.
After all, Beaty can't spend the entirety of every media session discussing the quarterback competition between Peyton Bender and Carter Stanley.
Following KU's fourth preseason practice on Thursday, the third-year head coach took time to single out many Jayhawks, some far more prominent than others.
"There's a few guys that have really stole your eye a little bit," Beaty began.
Below is a list of players referenced, along with what their head coach had to say about their impact and/or potential.
OFFENSE
• Hakeem Adeniji | so. OL | 6-4, 290: "You just never notice him, because his guy's always taken care of. He does a great job with those guys."
• Charles Baldwin | jr. OL | 6-5, 305: "I think Charles Baldwin's had a great two-and-a-half, three days. He's done a really nice job. I'm proud of him. I don't always say bad things about him."
A five-star juco standout at ASA College (N.Y.), Baldwin joined Alabama in early 2016 before being dismissed and transferring to Kansas. Beaty had said two days earlier Baldwin needed to "toe the line."
• Earl Bostick Jr. | fr. OL | 6-6, 270: "I think Earl Bostick is going to be a really good player," Beaty said, chuckling with a hint of excitement. "He is a massive human now. He's going to be a big dude. Every day the light is coming on brighter and brighter, which is good, because he really doesn't know a whole lot about that position yet."
• Quan Hampton | fr. WR | 5-8, 170: "Has been really, really good to this point. Got a lot more route-running ability than what we thought. We didn't know he knew that much about the position, but he's prepared. There's no doubt about it. And he is quick."
• Ben Johnson | sr. TE | 6-5, 245: "Does a lot of different things for us. A lot. Handles them all really, really well. I like him a lot."
• Moses Marshall IV | so. TE | 6-3, 230: "He's a guy that I've got high hopes for. Hopefully the light continues to come on and doesn't overwhelm him. But he's been a college player before, so I think that'll help."
A walk-on, Marshall transferred to KU from Erie Community College (N.Y.) and just arrived on campus this past week.
• Deron Thompson | jr. RB | 5-9, 185: "Deron Thompson just continues to stick out. Every time he touches the ball he's got a chance to take it to the house. He's another walk-on guy. Kansas boy. So he's been fun to watch."
Originally from Wichita, Thompson spent his first two seasons at Colorado State, before sitting out 2016 at KU as a transfer.
• Andru Tovi | so. OL | 6-3, 310: "He's done a really nice job. I think he's going to really develop into something good there."
Tovi, originally from Hawaii, played his freshman year at Pima C.C. (Ariz.).
• Dom Williams | fr. RB | 5-10, 190: "Dom's got a real chance to be a talented guy."
DEFENSE
• Isaiah Bean | so. DE | 6-4, 220: "Isaiah Bean's got a chance to be really talented. He's got a real chance. He's put on 12, 13 pounds. He looks good."
• Joe Dineen | jr. LB | 6-2, 230: "(He's) done a really nice job. I think his leadership's been paramount."
• Shak Taylor | jr. CB | 6-0, 175: "He's got really good skills. Long."
After playing his freshman season at South Dakota State, Taylor spent his sophomore year at Mesa C.C. (Ariz.).
• Vaughn Taylor Jr. | fr. DE | 6-3, 230: "I mean, he doesn't look like a freshman. He looks like a grown man. But he's got to get some weight on him; he's light right now. But I like the things he does. He's conscientious, he's smart, he really, really works hard, he stays on top of all his little details, which is good."
A walk-on, Vaughn originally committed to Navy.
• Daniel Wise | jr. DT | 6-3, 290: "(He's) done a great job leading that defensive line. That's been fun to watch."
SPECIAL TEAMS
• Liam Jones | fr. K | 5-10, 170: "I think Liam Jones is a very talented guy. I mean, I have a smile on my face that he is here, because I think he is very talented.
"… If you can get the ball down for Liam, that thing finds the uprights. He's got great lift on it, he's got terrific pop."