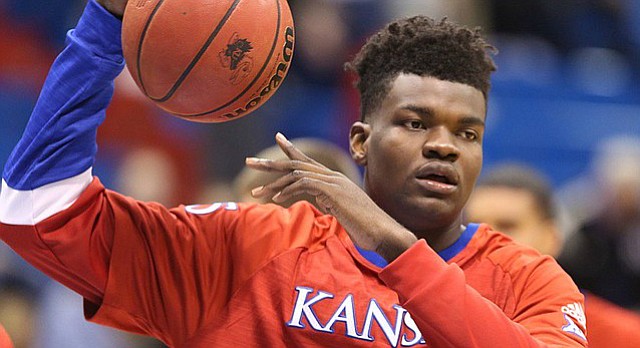 Kansas freshman Udoka Azubuike, who suffered a season-ending injury to his left wrist last December, took another step toward recovery on Tuesday.
"Udoka had surgery today to remove the hardware, the screw, and it went well," KU coach Bill Self told the Journal-World Tuesday night. "He's gonna be very limited the next couple weeks. But then he'll be right back into full rehab."
The 7-foot freshman who started six of the 11 games he played in during the non-conference portion of KU's schedule, damaged ligaments in the injured wrist during practice just before the Jayhawks' road victory at UNLV and spent the rest of KU's 31-5 season as an observer on the bench.
While wearing a couple of different casts on the left wrist, Azubuike remained as involved as he could with the team while working to build the strength back in his wrist. Tuesday's surgery will result in a two-week break from most activities, but Self said the team was comfortable with the path the big man from Nigeria has been on since the injury.
"He's been doing all kinds of rehab with his wrist and he's been doing basketball activity," Self said. "But just non-contact. We don't expect him to have contact until June, but all indications are that he is right on schedule. He's gotta take a couple weeks off from doing that stuff to allow the sutures to heal and that kind of stuff. After that, then he's back on and we'll become more aggressive with his rehab, but he's still non-contact until June."
Azubuike, whose size, height and length gave KU a different dimension in the front court, finished the season averaging 5.0 points and 4.4 rebounds in 12.9 minutes per game.
As long as the rehab continues to go well, Self said he could envision Azubuike's minutes at least doubling next season.