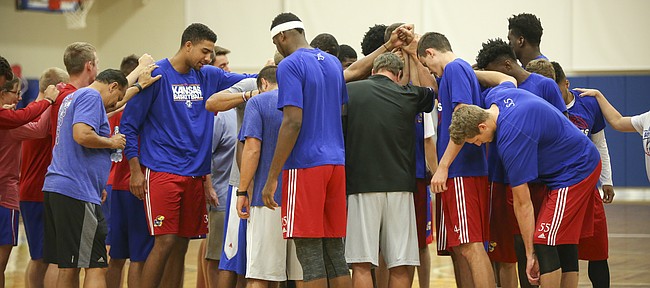 After a much-needed, two-day break from the preseason conditioning grind known as Boot Camp, the Kansas men's basketball team was back at it bright and early Monday morning for Round 6.
Last Friday, when speaking with local media members invited to watch the final session of Week 1, KU coach Bill Self said he was thrilled about the way the first week went, particularly in the area of leadership.
Whether it was in the lead-by-example style displayed by senior guard Frank Mason III or the let-em-hear-ya philosophy favored by several other Jayhawks, Self said he liked what he saw and heard during the first week of the two-week conditioning camp.
"Frank's not real vocal naturally," Self said. "But Devonte' (Graham) is, Landen (Lucas) is, Carlton (Bragg) is and Josh (Jackson) is. And Lagerald (Vick is) not bad. I think we've got better talkers than we've had in the past and maybe just because they've gotten older."
The development of various leadership skills throughout the course of one's career is common in college basketball circles across the country. But three of the five players Self singled out as vocal leaders were underclassmen.
Of Bragg, who leads most often with volume and a smile, Self said being a vocal leader was something that came naturally to him. As for Jackson, who showed off his chatter at times but also consistently finished at or near the top in most of the sprints and other timed drills, Self smiled and nodded his head when asked if the freshman's performance was expected.
"Josh hasn't surprised us in any way," Self said. "He is what they said he is from a competitive standpoint."
2018 PG coming Saturday
Matt Scott, of TheShiver.com, reported on Monday morning that Class of 2018 point guard Immanuel Quickley is the latest prospect to make known his plans to attend this year's Late Night in the Phog event on Saturday at Allen Fieldhouse.
Quickley, along with nearly a dozen other prospects from the classes of 2018 and 2019 will be in Lawrence on unofficial visits. In addition, five prospects from the Class of 2017 — point guard Collin Sexton, big man Billy Preston, forward Cody Riley, wing Troy Brown and point guard Tremont Waters — will be on campus on official visits.
Quickley is a 6-foot-3, 175-pound, five-star prospect from Bel Air, Maryland. Rivals.com ranks him No. 12 in the 2018 class.
New rings
The KU men's basketball team picked up their newest Big 12 championship rings over the weekend.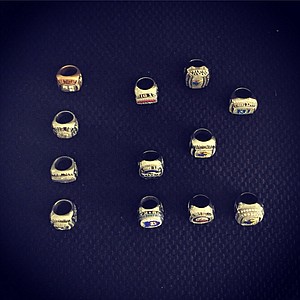 For some, like fifth-year senior Landen Lucas, the experience of opening the box and inspecting the new bling was a familiar one.
"Got to get one for each finger," Lucas Tweeted with a hand emoji holding up the number five signaling Lucas' goal for a fifth straight title during his KU days.
Andrea Hudy, KU's assistant AD for sports performance, showed off her familiarity with ring day with a creative post on social media, as she arranged all 12 of her Big 12 championship rings in the form of the two digits in the number.
With a crimson and blue Jayhawk dominating the top, the ring features shiny diamonds all around, with the player's name and words "Big 12 Champs" engraved on the side.