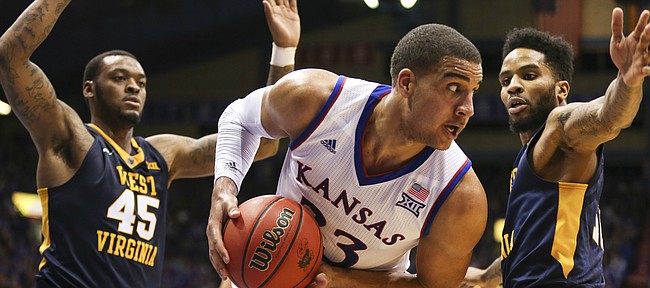 His rapid improvement and big time production during the 2015-16 college basketball season endeared Kansas basketball fans to junior forward Landen Lucas in a major way.
But for two new parents who used to call Lawrence home, the admiration of the KU big man did not end when the final horn sounded after each game or the season ended in late March.
Ian and Meredith Sadler, who now live in Tulsa, Oklahoma, on Monday welcomed twin boys into the world. Their names? Landon Beau Sadler and Lucas Joseph Sadler.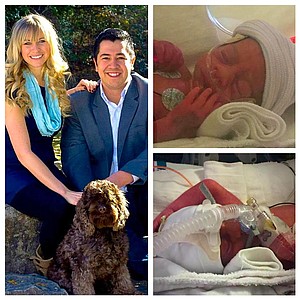 Yep. You read that right. Introducing the Sadler twins, Landon and Lucas.
The Sadlers certainly are not the first couple to name their children in honor of Kansas basketball, but this is taking things to another level. And, as it turns out, actually required a bit of creativity on Ian's part to make it happen.
He calls the story "Strategic Coincidence" and credits his super fan status and time spent working in the KU athletic department for the selection of the boys' names.
"When we found out we were pregnant, Meredith, a growing Jayhawk fan, knew where my thoughts were going," Ian began. "She immediately told me I was not allowed to name our baby anything KU related, even though thoughts of Pierce, Tyrel, Jacque and other very suitable names quickly came to mind. Bill Self Sadler had a nice ring to it."
As the pregnancy went on and doctors informed the Sadlers they were having identical twin boys, Ian turned things up a notch and began referring to his unborn sons as Markieff and Marcus.
"She quickly shut that down," he noted.
From there, fate stepped in and Ian caught his break.
"A few weeks later, Meredith mentioned the name Landon, and how she really loved it. I told her I would agree to Landon if she allowed me to pick the second name. I suggested Luke, but his official name would be Lucas. She agreed. About a month later, after constantly referring to Babies A & B as Landon & Lucas, we were watching KU take on West Virginia, and, somewhere in the middle of his 16 rebounds, my wife popped me in the shoulder, and said, 'Landen Lucas, huh?'
"She already loved the names, and with the minor spelling difference, here we are. I promised her not too many people would catch on."
One person who did catch on was Lucas himself. When reached by the Journal-World between a Tuesday workout and studying for final exams, Lucas immediately broke into laughter upon hearing about the Sadler twins, who were born at 32 weeks and currently reside in the NICU wing at St. Francis in Tulsa.
"That's awesome," said Lucas, who will graduate Sunday. "Those kinds of stories are cool to hear, and it's pretty amazing just how big and committed our fans are and how in love with Kansas basketball people are. It's cool. That's the kind of stuff you hear about when you're looking at schools and you just want to be a small part of it and I'm happy to be a part of that story. Maybe someday I can even meet the kids. We gotta make that happen."
Lucas said the Sadler connection was his first encounter with actually knowing a Jayhawk whom fans had honored in such a manner.
"I've heard of dogs and cats and stuff, but naming kids, that's pretty cool," he said. "And I like the story behind it too because he found a way to kind of sneak it in there without going overboard. They could go through life and nobody will really know unless you dig a little deeper. That's pretty funny."
More like this story on KUsports.com