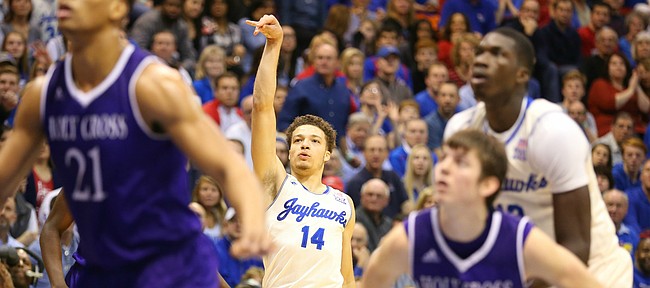 Brannen Greene's three-year Kansas basketball career, filled with three-point marksmanship and trips in and out of coach Bill Self's doghouse, came to a close Wednesday afternoon with the junior guard announcing he'll declare for the NBA Draft.
According to KU coach Bill Self's statement in a release, Greene, like Wayne Selden Jr., plans to hire representation, ending his college eligibility.
Greene became the third Jayhawk in as many days to enter the draft — though freshman Cheick Diallo has not determined yet whether he'll definitely turn pro or simply test the draft process and return to Kansas.
"Brannen has elected to declare for the NBA Draft with the intent of hiring an agent at some point," Self said. "I certainly understand Brannen making this decision. We wish him nothing but the very best. He has an NBA skill that I think will translate very well to the next level. We appreciate his efforts during his time at Kansas."
A 6-foot-7 wing from Juliette, Georgia, Greene shot 49.2 percent from 3-point range this season.
"After talking with my family, weighing the options, and talking with the coaching staff," Greene said in the release, "I feel like it is the best decision for me moving forward to take my talents to play professionally."
Greene scored a season-high 18 points on 6-of-6 shooting, 5-of-5 from three-point range, in the season opener against Northern Colorado.
A few days later, Self suspended Greene before KU left for the Maui Invitational for conduct detrimental to the team. In March of 2015, Greene was suspended for KU's regular-season finale, against Oklahoma. During Greene's freshman year, Self suspended him one game for "a pattern of irresponsible behavior."
A three-point specialist, Greene had eight games in his junior season in which he made multiple threes for the Jayhawks. Of his 44 field goals made, 31 were from three-point range. Greene averaged 5.4 points and 2.1 rebounds per game in 12.4 minutes while pulling down four or more boards 10 times his junior season
"I want to thank my teammates for all the great times we had and all the battles we went through together. I want to thank the coaches for taking the time to work with me throughout my three years," Greene said. "I definitely want to thank the fans. Running out to 16,000 every night, that won't be replaced at all in any way. I want to thank the fans and everybody I met across the campus for their support."
Greene played in 93 games while at KU with three starts. He scored a career-high 19 points in Kansas' win at Georgetown on Dec. 10, 2014, which included a 5-for-5 effort from beyond the arc. For his career, Greene shot 42.2 percent from 3-point range (81 of 192) and 87.2 percent from the free-throw line (102 of 117). Included were consecutive free-throws-made streaks of 21 his sophomore season and 20 in 2015-16.
"It was definitely a big-time high for me when I hit a three in Allen Fieldhouse," Greene said. "Just to see how the crowd reacted and I had a signature three fingers to the head and everybody ran with that. It was fun being in the Fieldhouse. It gave me a ton of energy every time I played there as it did all of my teammates."
Added Self: "Brannen is talented and very competitive," Self said. "This combination should allow him to play professionally for many years to come."
More like this story on KUsports.com