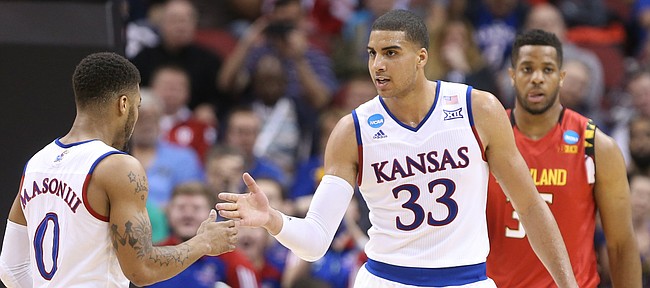 As March comes to a close, and the Jayhawks, the top overall seed in this year's NCAA Tournament, watch from afar while four other programs battle for a national championship, no one — not even Bill Self — knows exactly what the Kansas University basketball roster will look like next fall.
Wayne Selden Jr. won't be back. The same goes for Brannen Greene. There is a legitimate chance Cheick Diallo won't, either. The days and weeks ahead could bring more names of KU underclassmen who either want to find out what NBA decision-makers think of them (without hiring an agent) or desire to move on from college basketball for good, in order to play professionally.
How will Self fill those holes, as well as the ones left by seniors Perry Ellis and Jamari Traylor? For now, at least, only 6-foot-9 forward Mitch Lightfoot and 6-11 center Udoka Azubuike plan to join Kansas from the Class of 2016 prep ranks — though more surely will commit this spring.
When the 2016-17 season begins in November, there might only be a handful of Jayhawks left who have been on the floor contributing to victories during the madness of March.
"The one thing that I really believe that will carry on," Self said, following KU's Elite Eight loss to Villanova, "is culture."
According to junior big man Landen Lucas, whose insertion into the starting lineup in late January helped fuel a 17-game winning streak, KU's departing seniors helped reestablish that culture Self referenced.
"The biggest thing I could take from all of them, whether it be Evan (Manning), with his dad (Danny), and everything he's meant to this program and cared. Hunter (Mickelson), when times weren't going well, he wasn't playing, still bringing it every day. Or Perry and Jamari just caring so much. They all cared about this program," Lucas said. "They all really wanted it for the school. And that's big in this day of one-and-dones and people who don't really get attached to the school. We have four seniors that really cared and it rubbed off on the whole team, where we all really fed off of that."
When Kansas lost in the Round of 32 in 2014, the Jayhawks didn't have a four-year program veteran on which they could lean — Tarik Black and Justin Wesley began their college careers at other schools, and walk-on Niko Roberts played 84 career minutes.
The 2015 NCAA Tournament, too, came and went without KU reaching the Sweet 16. That team, which also went 1-1 in The Big Dance, had one senior: walk-on Christian Garrett (67 career minutes).
Lucas said Ellis, Traylor and company cultivated a different level of commitment among the players in their final season with the program.
"If there's anything we could take from them, for the younger guys, for the people coming in," Lucas said, "it would just be to care as much as they did."
According to Lucas, who averaged 10.5 points and 10.8 rebounds as KU went 3-1 in the tourney, the season-ending loss to No. 2 seed Villanova felt different than early exits against 10th-seeded Stanford and seventh-seeded Wichita State the previous two years. Looking back on those underwhelming performances, Lucas said the Jayhawks let opponents "out-compete" them. That didn't happen, he added, against Villanova.
Next season, Lucas will be a senior. The veteran big man, senior-to-be Frank Mason III and junior-to-be Devonté Graham project as KU's core of leaders. While Lucas doesn't know which other rotation players will be back in the mix, he thinks the Jayhawks can build on their March run and the habits this season's seniors help put in place.
"The last couple years we were all kind of growing up together and we didn't really have anyone who was here who could go show us how much it means to care about it, to play for this program," Lucas said. "They definitely showed us that, so we've just got to build off of that and make sure that we learn from that and take that moving forward. That'll be my job and everybody in this locker room's job to relay that to anybody coming into this program. This is a big deal."