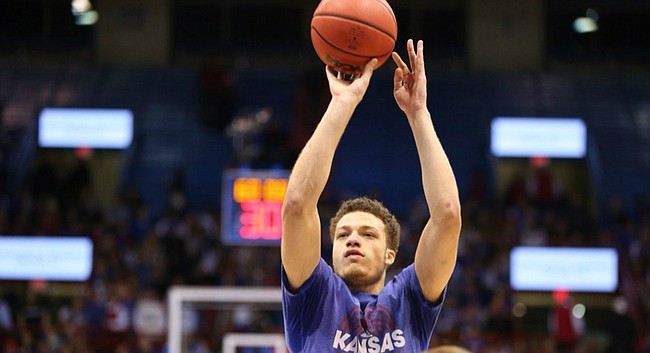 Brannen Greene, a 49 percent three-point marksman (31 of 63) in limited duty his junior season at Kansas University, on Wednesday said he would forgo his senior campaign to enter the 2016 NBA Draft.
The 6-foot-7 native of Juliette, Ga., who averaged 5.4 points and 2.1 rebounds while playing 12.4 minutes a game in 30 of KU's 38 games, was hindered by suspension (five games) and occasional back stiffness this past season. He had hip surgery last offseason.
"Brannen has elected to declare for the NBA Draft with the intent of hiring an agent at some point," KU coach Bill Self said, noting Greene's decision is final. "I certainly understand Brannen making this decision. We wish him nothing but the very best. He has an NBA skill (shooting) that I think will translate very well to the next level. We appreciate his efforts during his time at Kansas."
Greene had a season-high 18 points off 5-of-5 three-point shooting against Northern Colorado. He had multiple threes in eight games. Of his 44 field goals, all but 13 were threes.
"After talking with my family, weighing the options, and talking with the coaching staff, I feel like it is the best decision for me moving forward to take my talents to play professionally," Greene said. "I want to thank my teammates for all the great times we had and all the battles we went through together. I want to thank the coaches for taking the time to work with me throughout my three years. I definitely want to thank the fans. Running out to 16,000 every night, that won't be replaced at all in any way. I want to thank the fans and everybody I met across the campus for their support."
Greene had four or more rebounds in 10 games this past season.
"Brannen is talented and very competitive. This combination should allow him to play professionally for many years to come," Self said.
Greene hit for a career-high 19 points against Georgetown his sophomore season. He was a career 42.2 percent three-point shooter (81-for-192) and 87.2 percent free thrower (102-of-117).
"It was definitely a big-time high for me when I hit a three in Allen Fieldhouse," Greene said. "Just to see how the crowd reacted, and I had a signature three fingers to the head, and everybody ran with that. It gave me a ton of energy every time I played there (fieldhouse), as it did all of my teammates."
Greene's dad, Jeffrey, said his son "is thrilled. He spent the last two, three days talking it over with coach Self. Everyone agreed with the decision. Feedback (from NBA) seems promising. It may come as a shock to a certain group of folks, but Brannen is fully confident in his decision and I support it."
Of Brannen not playing against Maryland or Villanova in the NCAAs, Jeff Greene said: "He was about 85 percent, and you needed to be at 100 percent. I agreed with coach's decision to rest him. By the following weekend (Final Four), he'd be 100 percent. Now we've got a healthy Brannen Greene running sprints with no pain.
"I have spoken with three agents who feel he'll get the invitations and workouts (with NBA teams). He's fully committed, all-in to make a roster of an NBA team next year and say goodbye to college. He wants his legacy as a Jayhawk. We love the school and community. It was a great experience for him. He needed to be in an environment with a Bill Self-type coach, an elite coach not afraid to give him honest feedback. He needed that environment and had that at Kansas.
"Because of being under the tutelage of coach Self three years, he has the strength and resolve now that he'll handle the next phase in his life. As a dad, how proud am I of his son's legacy at the University of Kansas? I get to wear that badge the rest of my days with pride."
Awards: KU coach Self has been named national coach of the year by the National Association of Basketball Coaches and will receive the award Sunday in Houston. He's also been so honored this season by USA Today and Bleacher Report.
"All that means is you had a group of kids that cared an awful lot and played to a ridiculously high level all year long," Self said. "Awards appear to be nice, but for me, a hundred times over, I would give any of that up to have those kids experience getting to play in Houston (at the Final Four)."
Forward Perry Ellis has been named CBSsports.com second-team All-American and NCAA consensus second-team All-American.
Transfer talk: Coppin State's leading scorer, 6-2 combo guard Christian Kessee, will transfer to a yet-to-be-determined school. He averaged 14.3 ppg last season. He will be immediately eligible to play next season as a graduate transfer. KU has been mentioned, along with Washington State, Louisiana Tech, Middle Tennessee and Old Dominion according to analyst Jeff Borzello. ... Jimmy Whitt, a 6-4 freshman guard from Columbia, Mo., has announced plans to leave the University of Arkansas. He averaged 6.1 points with 35 assists, 31 turnovers, logging 17.2 minutes a game. Cal is the first school listed as a possibility.