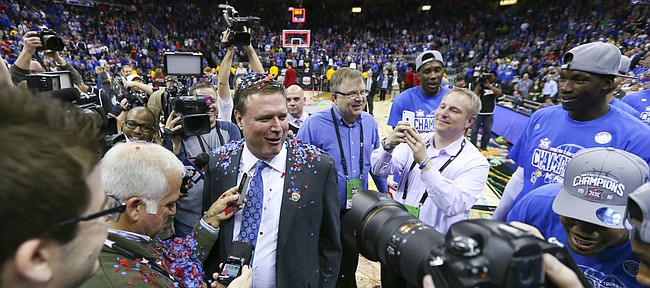 All the speculation and number-crunching leading up to Selection Sunday proved correct. The Kansas Jayhawks (30-4), regular-season and postseason champions of the Big 12, officially received the No. 1 overall seed in the 2016 NCAA Tournament.
KU, which has won 14 straight games entering the Big Dance, landed the No. 1 seed in the South region. Bill Self's team will open its run in Des Moines, Iowa.
The Jayhawks, who went 6-1 in neutral floor games and 7-3 in road games this season, will face No. 16 seed Austin Peay on Thursday.
No. 8 seed Colorado and No. 9 seed Connecticut are the other two teams in KU's pod. As long as Kansas doesn't become the first No. 1 seed in tourney history to lose to a 16 seed, KU will face the winner of Colorado-UConn on Saturday with a trip to the Sweet 16 on the line.
Each of the past two seasons, the Jayhawks failed to advance past the round of 32, losing to Stanford in 2014 and Wichita State a year ago.
North Carolina, Virginia and Oregon received the other No. 1 seeds in the bracket.
Here are the rest of the matchups in the South region, which culminates with Sweet 16 and regional finals in Louisville, Kentucky:
No. 5 Maryland vs. No. 12 South Dakota State
No. 4 Cal vs. No. 13 Hawaii
No. 6 Arizona vs. No 11 Vanderbilt OR Wichita State
No. 3 Miami (FL) vs. No. 14 Buffalo
No. 7 Iowa vs. No. 10 Temple
No. 2 Villanova vs. No. 15 UNC-Asheville
— Check back in later at KUsports.com for more on KU's upcoming NCAA Tournament journey.