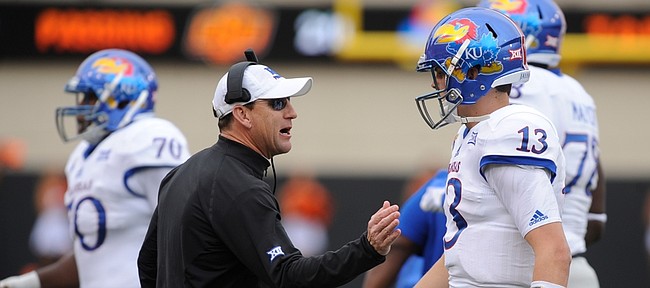 Sunday's opening day of spring football practices for Kansas University was much more than just the average happy-to-be-back-out-there kind of day.
The Jayhawks were thrilled to get started again — mostly so they could officially start moving forward from last year's 0-12 campaign — but Day One also represented the first opportunity for second-year head coach David Beaty to implement a role change between himself and offensive coordinator Rob Likens.
Podcast episode
KU football coach David Beaty talks big changes on Day 1 of 2016 spring football drills
"Rob is still going to carry the same title," Beaty said after Sunday's practice. "But I'm gonna call the offense, and I'm gonna coach the quarterbacks this year. And that doesn't have anything to do with Rob. It has to do with me. I want to be more actively involved with the QBs and what we do offensively."
Beaty spent a good chunk of Sunday working exclusively with the quarterbacks. That included stretches when he worked one-on-one with injured returning starter Ryan Willis on mental reps. The idea behind the change, Beaty said, came from the fact that, after one year of building a foundation at all levels of the program, he believes he now has the freedom to get back to coaching football.
"I love football, and I missed being actively involved in it," Beaty said. "Offensively, my name's on it. So I'm gonna get involved in it because of that. I enjoy doing that. It's a lot of fun. It's kind of what I got into the business for, and I think it can help us."
The fact that Beaty just replaced five full-time assistants in the past couple of months might make now seem like the last time one would consider making this kind of change at such an important position. But Beaty said the make-up of the coaches he hired to replace the five who left helped him pull the trigger. Almost all of them have extensive knowledge and experience in what Beaty referred to as "more of a true Air Raid" system. And their understanding of what Beaty wants to do will allow him to dig into the offense a little deeper.
"There's a reason those guys are here," Beaty said. "They know what they're doing. They were almost plug-and-play."
Beaty said the change, both in terms of who will call the plays and what those plays will be, will create an offensive environment that is flexible and puts responsibility on the most important player on the field.
"Just empowering the quarterback and him being able to take advantage of what he sees," said Beaty, asked for a quick summary of the biggest difference between this year's offense and what KU ran last year. "We'll utilize those guys' minds more than we did in the past."
Beaty stopped short of saying Willis would have been the starter entering spring ball had he been fully healthy, but he did call the sophomore who started the final eight games of last season the "incumbent" and talked plenty about how this new offense fits Willis' skill set.
While Willis recovers from the injured right wrist, returners Montell Cozart, Deondre Ford and Keaton Perry, along with red-shirt freshman Carter Stanley, will get more reps and have plenty of opportunity to push Willis.
"I love all of those guys," Beaty said. "We've got some talented (quarterbacks). It's gonna be an interesting race."
In short, while some things about the particulars of KU's offense may have changed, one key thing did not. Every player at every position is still going to have to earn everything he gets.
As for Likens, Beaty believes he can still be a big-time asset.
"He's a little bit more of a walk-around guy right now," Beaty said. "It allows him to help me a little bit. Rob can go address some of the running-back stuff, some of the O-line stuff, and we get a chance to come back and make sure we're really doing everything efficient."
Beaty and the Jayhawks will take today off and get back to work Tuesday for practice No. 2 of the 15-practice spring session.