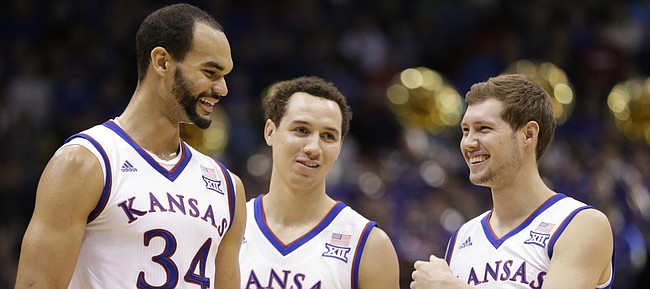 The last time I watched Evan Manning run onto the floor as his name was called during the pregame introduction of the starting lineups, it was at Free State High and he went on to total 18 points, seven rebounds, five assists and four steals in a 65-54 victory against Shawnee Mission West.
Just had to get off my chest because I want people to know that he's not a courtesy walk-on who was gifted a uniform because of his family history and/or connections.
Those factors played in his decision to play basketball and attend school at Kansas University and could have landed him a spot on the roster had he not been good enough, but the fact is Bill Self wanted him on his team because he brings everything a coach would want from a walk-on.
Podcast episode
Kansas basketball coach Bill Self discusses the Jayhawks' Saturday home finale versus Iowa State, which will be Senior Day for Perry Ellis, Jamari Traylor, Hunter Mickelson and Evan Manning. Self said the emotions of this Senior Day might hit him harder than others, and discusses an array of other topics ...
Podcast episode
Kansas senior center Hunter Mickelson meets with media members to discuss his time in the program and what lies ahead.
Podcast episode
Kansas senior walk-on Evan Manning fields questions from the media, prior to his final home game at Allen Fieldhouse. The son of all-time KU great Danny Manning, Evan describes the decision process with playing at KU, instead of for his father, as well as one time he let Tyler Self ...
Watching him play for a 6A high school, it was clear that Manning had a very high basketball IQ, an unselfish approach, gave maximum effort, and possessed enough skill and athleticism to compete credibly against scholarship players in practice.
Manning scored 11 points in the first quarter the last time I heard his name announced as a starter. He's not likely to make that sort of noise Saturday in a Senior Day starting assignment against Iowa State, but my guess is Allen Fieldhouse will grow plenty noisy when introduced to the crowd.
Kansas fans are savvy enough to understand the value to the program of a brainy walk-on such as Manning. They know it's his job to study film and follow instructions of the assistant coach whose turn it is to scout the next opponent. That assistant tells each member of the scout team which player to study so that player can pretend to be the opponent in practice. Manning not only did that with attention to detail regarding the opponents' tendencies, he made sure the rest of the scout-team players did the same.
"A fun one for me was (Rodney) McGruder for K-State," Manning said Thursday at a news conference. "He would run off all these single-double ball screens down in the paint and I just remember Travis Releford was guarding me. It was like the best practice I ever had. I think I made like three shots in a row on Travis, so that was a pretty big deal for me. That was pretty fun."
As I was sitting at a stop sign the other day waiting for the light to change for a good minute with no traffic in sight in any direction, a thought occurred to me. (Yes, you read that correctly. No, it wasn't a typo. I actually waited for the light to change when I was at a stop sign, not at a traffic light.) Anyway, the thought that occurred was that Manning's role with Kansas the past four years has been quite a bit like the role described by former teammates of late, great coach Dean Smith when he played for Phog Allen at Kansas. When I shared that thought with Manning and wondered if he had an interest in coaching, he made sure to lower expectations.
"First of all, I do not want to compare myself to Dean Smith," Manning said, triggering laughter in the room. "He's a legend. Hopefully, one day I can be a coach, or help guys get ready for a game in some similar manner. That would be a really cool opportunity to have, and hopefully, I do pick the right profession when it comes to it. Coaching would be pretty cool, I think."
Manning distanced himself from one basketball legend but also took a little credit for helping another basketball legend launch his move into a new phase of the game. That was revealed when Manning was asked about first meeting his current head coach, Bill Self.
"He was in the hiring process to hire his staff and his wife (Cindy) and (son) Tyler came over to my house," Manning said. "I remember that was the first time I met Tyler. We all hung out, had dinner and everything and it was the first time me and Tyler played one-on-one. Let him beat me so my dad (current Wake Forest head basketball coach Danny Manning) could get a job."
Has he ever lost to Tyler, a fellow walk-on and former high school teammate, since then?
"No," Manning said. "Had some battles though."
Manning looked so comfortable sitting for the first time at the table where players sit for post-game and pre-practice interviews that a thought occurred to me: One day decades down the road, perhaps after I'm gone, perhaps when I'm sitting at a stop sign waiting for the light to change, Evan Manning will stand in front of a podium in that same spot and handle his introductory news conference as the new Kansas basketball coach as smoothly as he handled it Thursday.
---
---
More like this story on KUsports.com