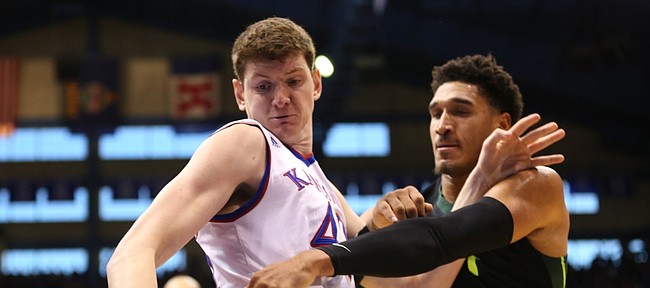 When one thinks of great outdoorsmen in recent Kansas University basketball history, the names Greg Ostertag and Wayne Simien (fishing, hunting), Luke Axtell (fishing), John Crider (mushrooms, fishing) and, yes, Hunter Mickelson, are some that quickly come to mind.
"He's the real deal," former KU All-American Simien said of Mickelson, a 6-foot-10, 245-pound senior center from Jonesboro, Ark., who on Saturday against Iowa State will play his final home game as a Jayhawk.
"I actually learned a few things from him duck hunting. That's his main trade," added Leavenworth native Simien. "It's been fun not only sharing experiences of being big guys that played here, but also sharing some hobbies as well," added Simien, the first person to take Hunter fishing in Kansas after his transfer from Arkansas in 2013.
"Him, my dad and I went fishing at Lake Perry, and we went duck hunting south of town by Baldwin last winter. He's a lot of fun to be around. He's one of those guys I wish I could have played with him. He has such a great attitude and work ethic and really appreciates all that Kansas basketball is. That's why it's fun hanging out with him," noted Simien, KU's team chaplain and campus director for the Called to Greatness organization.
Regarded as one of the most polite individuals on KU's team — did you notice the firm handshakes Mickelson gave his teammates when introduced as a starter 10 times this season? — Mickelson might need to bring some of the current Jayhawks on outdoors excursions in the future.
"He hasn't (invited me) yet, but every now and then he'll bring his personality to the weight room with some country music or something," said KU forward Landen Lucas of Portland, Ore. "Of course I'd go with him. I like that kind of stuff. In the offseason I'd do that for sure."
Mickelson actually spends most of his hours on the court and in the classroom during his months in Lawrence, leaving his hobby as something he mostly enjoys back home.
"I've fished a little bit here," Mickelson said. "Sometimes I'll go by myself. I've gone to little farm ponds. You've got pretty much what everybody else has got — crappie, bass, everything."
Of his duck hunting passion, he said: "We get to go home three days during Christmas. The season goes out the 24th, 25th, so I have to miss it. I keep in contact with a bunch of buddies back home. They tell me how they are doing, send me pictures of what they get. I've been invited to a few places, but with school and practice you'd have to miss a class to go."
Also ... "I didn't bring my gun with me and didn't bring any of my gear with me (to school)," he added. "It's a big hassle (to borrow), so I've been sticking to fishing and playing basketball, really."
In a recent interview, Mickelson, who in May will receive a general-studies degree from the College of Liberal Arts and Sciences, joked: "The last thing I shot technically was a Coke can."
Not to mention basketballs.
Mickelson has worked tirelessly on his game in the gym since his arrival before his red-shirt season in 2013-14.
"He's fallen in love with the game," KU coach Bill Self said of Mickelson, who averages 2.5 points (off 50 percent shooting) and 2.4 boards while logging 8.1 minutes a game in 22 games for the 26-4 Big 12 champs.
"You could see that last summer in Korea (where he played a huge role on KU's gold-medal winning World University Games team). Everybody loves how hard he works, and everybody loves his attitude. What a great kid," Self added.
"He always does well in practice," noted fellow big man Lucas. "And whenever he's called on, he's shown he is more than capable of playing at a very, very high level. It's great to have someone like him that's always ready to go when called on."
Mickelson plans to continue his career onto the pro level next season — "I'd go pretty much anywhere," he said.
He agrees with his coach that he's in love with hoops.
"Definitely coming here re-ignited the flame. I'm definitely having a great time," Mickelson said. "I just enjoy doing every little bit of it."
He looks back at a time his main love was baseball.
"I played on a bunch of travel teams during the summer. It was fun until I got really tall. Sixth, seventh grade I got to the tall and awkward stage. It was kind of hard to play. I got frustrated with it and ended up quitting for a while," he said.
But his senior year at Jonesboro Westside High School, "I played because all of my buddies were playing. I batted ninth in the lineup, played right field. We had a stacked team, so there was no room for me to be pitching," he added, laughing. "I was glad to be out there anywhere."
He said he didn't receive any scholarship offers for baseball, instead heard from Arkansas, as well as KU, Florida, Kentucky, Baylor, Arizona and many others for basketball his senior year. In all, he had 24 scholarship offers, choosing Arkansas.
"It's been great," he said of KU. "I've gotten a lot stronger, played with a bunch of great guys, talented guys. Everybody I'm surrounded by is good people. I'm definitely happy. Graduating is very important to me."
A batch of family members will be here Saturday for his Allen Fieldhouse farewell.
"I might try to keep it short and sweet," he said of his postgame speech to the fans, "thank everybody I need to thank. I'm not trying to be out there forever."
Then it's on to the postseason.
"If we keep playing how we've been playing," he said of the Jayhawks, who have wrapped up a 12th-straight Big 12 title, "and tighten up a few things down the road, I think we'll have a real good chance."