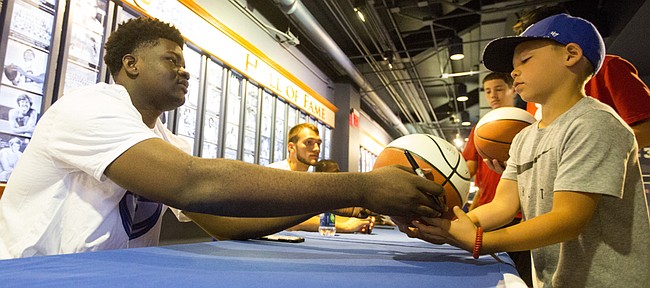 Rugged Landen Lucas, who led Kansas University's 33-5 basketball team in rebounding during his breakout junior season, plans to improve his "offensive game" the next few months.
"There's working on it, and there's really learning from people who know what they are doing. So this summer I'm getting with Wayne Simien as much as possible," the 6-foot-10, 240-pound Lucas said of the 6-foot-9, 250-pound former All-American, who lives in Lawrence and is the team's chaplain.
"If there's someone who knows how to score on the block, it would be him," Lucas added of Simien, the 14th-leading scorer in Jayhawk history. "I'm trying to meet up with him, get some tips from him — workout tips, advice. If he ever is in the gym with me, (we'll) work on some stuff."
Lucas, who averaged 5.8 points a game off 64.3 percent shooting and 6.8 boards as a fourth-year junior, has other offseason goals as well.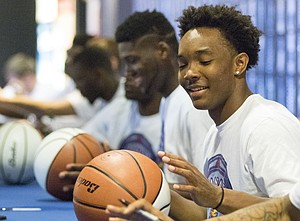 "On top of that, improve on rebounding and defense. You can never rebound too much," the Portland, Ore., native said.
He was speaking Sunday in KU's Booth Family Hall of Athletics after signing autographs for two hours at Bill Self's summer basketball camp for youths. He has been back in Lawrence just two days after spending about a month in Portland.
"A few more (people) know my name now, know more about me. That's fun," Lucas said of his popularity back home and in Lawrence, which has grown after his starting 19 games a year ago for KU's Big 12 regular-season and postseason tourney title team that reached the NCAA Tournament Elite Eight.
"I mean, you come here to be part of something big. I think last year I was able to contribute a little bit more to that. I'm happy I'm here and doing it at a place like Kansas."
He's ready to do what he can to make the team's newcomers feel comfortable. Freshmen big men Udoka Azubuike and Mitch Lightfood and Liberty transfer Evan Maxwell are already on campus for the start of summer school, while guard Josh Jackson is slated to arrive today.
"Just to take it all in," Lucas said of advice he'll give the rookies. "Everything is going to come at them real fast. To enjoy the process … these workouts now will seem very big and important, each one. They are, but really they just need to come in and take it slowly. Nothing is being decided right now by these workouts. Work on getting better and enjoying everything."
Of Jackson, who is Rivals.com's No. 1 high school prospect in the Class of 2016, Lucas said: "He's a very nice kid. I got a chance to keep in contact with him through the recruiting process. He's a cool guy. I'm looking forward to getting a chance to see him play in person. I haven't done that yet."
Andrew Wiggins, who has completed two seasons with Minnesota's Timberwolves, was KU's last top-rated high school player to compete for the Jayhawks.
"Andrew did a great job. He just focused on himself. He didn't pay too much attention to what others were giving him as far as the hype," Lucas said. "He (Jackson) could definitely learn from that. The attention I think is great for the whole team, great for the program. We'll feed off that even more. We're already going to be getting a ton. Having him here will be fun. I'm looking forward to playing with him as well."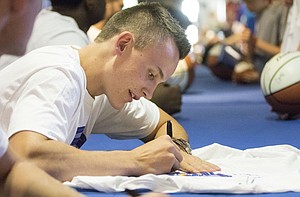 Senior leader Lucas, who was sporting a beard Sunday — "I don't know if it's staying; we'll see if it actually will grow in full," he said — said he reported to camp healthy. Two years ago, he had surgery to remove a noncancerous bone tumor from his leg.
"I actually feel good," he said. "At the end of this year (2015-16 season), I probably felt better than I have in a long time. Surprisingly, I probably could have played another half season and felt good doing it. I'm definitely happy about that. It's a credit to our staff and (strength coach Andrea) Hudy for keeping our bodies in good health and shape. I'm happy about that because last year was the exact opposite."
Academics report: Lucas took part in graduation ceremonies a few weeks ago, receiving his business degree. "I just finished my classes in May. Now I'm focusing on graduate classes," he said. "The online class (he's taking this summer) doesn't cover all our hours next year. Tyler (Self, senior) and I are in it together. We'll take some class on the side along with that."
Many contact Newman: KU is one of several schools to contact Mississippi State to speak with Malik Newman about a possible transfer, the Clarion-Ledger reports. Others: Arizona, North Carolina State, Purdue, Georgia Tech, Arizona State, Miami, TCU, Oregon and Iowa State. Newman averaged 11.3 points a game during his freshman year. He suffered from turf toe and back spasms.