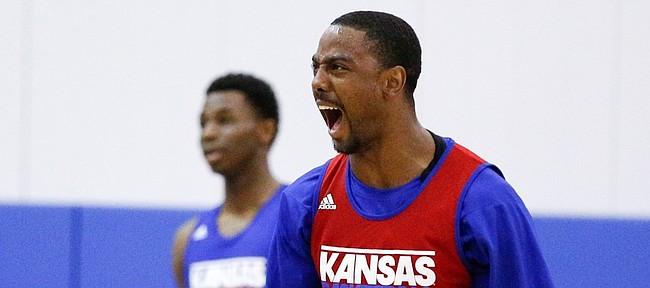 The all-time assist leader in Kansas University and Big 12 basketball history on Monday begins a coaching career meant to help others develop their games.
Aaron Miles, a four-year starter at KU who played for head coach Bill Self and assistant Joe Dooley in 2003-04 and '04-05, on Friday was named a full-time assistant coach on Dooley's Florida Gulf Coast University staff.
Miles — he dished 954 assists, ninth-best mark in NCAA history — worked last year as KU assistant director of student-athlete development. He was not allowed to perform on-court coaching duties in accordance with NCAA rules, but was able to confer with players regularly.
"FGCU just hit a home run with the hiring of Aaron Miles," Self said of the Portland, Ore., native who played professionally from 2005-15, before hip surgery forced him to take last year off and ultimately reassess his career. "He's experienced beyond his years with his playing background and his ability to teach. He will work well under Joe and the system he has put in place.
"I think Aaron has the chance to be one of the stars in our profession moving forward," Self added.
Dooley, who is beginning his fourth year at FGCU, feels the same way about Miles who starts recruiting for Gulf Coast on Monday.
"I'm excited Aaron and his family are joining FGCU," Dooley said. "He's got a bright future in coaching, and he'll make a big difference in our players' skill development. Aaron is experienced, hard-working and played for a Hall of Fame coach (Roy Williams) and a future Hall of Fame coach (Self). He has experience professionally, especially oversees (Russia, France, Spain, Greece), and is someone who will be a tremendous mentor to our players."
Miles in his career played for Golden State (NBA) as well as Fort Worth and Reno of the D-League. Highlights of his overseas career include being selected to the HEBA Greek All-Star Game in 2009 and 2010 and being named MVP of the Russian Cup in 2013.
"My family and I are extremely excited about joining the FGCU family," Miles said. He replaces Senque Carey, who left FGCU after one season for an assistant-coach post at Long Beach State.
"I want to thank coach Dooley for this great opportunity. I'm also very grateful and appreciative of the Kansas staff, players and in particular head coach Bill Self for allowing me to learn from them the past year and helping prepare me for this position.
"FGCU was the perfect fit for me," added Miles, a two-time Academic All-Big 12 pick at KU who finished his career with 1,183 points (36th all time), 264 steals (third) and 105 three-pointers (tied for 21st). His 137 career starts are second on the KU all-time list, while his 16 NCAA Tournament games played are tied for the most in school history. He played in two Final Fours.
"Having the chance to work with coach Dooley is a great honor, as I've seen first-hand the passion and knowledge he has for the game. I'm looking forward to working with our student-athletes and helping them improve and succeed on and off the court every day," Miles added.
Of his playing career officially ending, the 33-year-old Miles told the Fort Myers News-Press: "It's time for me to hang them up. I never got the confidence to get back out there."
Self told the Journal-World he will fill the vacancy on his staff later this summer. He said he had nobody selected at this time, noting the position will be a "video" coordinator position rather than in student-athlete development.
Svi plays today: KU guard Sviatoslav Mykhailiuk and the Ukraine National Team today begin competition at the FIBA Under 20 European Championships in Finland. Ukraine will meet Slovenia at 12:45 p.m., Central time. Ukraine will meet Serbia at 8:15 a.m. Sunday. All games will be live-streamed on Youtube.com. There are four groups of four teams in the tourney, including Group C with Ukraine, Latvia, Serbia, and Slovenia. Group competition determines seeding in the 16-team bracket to determine the overall champion. The event concludes on July 24.
Summer league: Former KU forward Cheick Diallo scored 12 points off 5-of-12 shooting and grabbed 10 rebounds with three blocks while playing 28 minutes in New Orleans' 88-76 loss to the D-League stars on Friday in Las Vegas summer-league action. ... Cliff Alexander scored four points and grabbed one board in 13 minutes in Portland's 80-75 win over Boston. ... Brannen Greene hit his only shot and finished with two points while playing nine minutes in Memphis' 89-79 loss to Atlanta.
This, that: Michael Porter Jr., a 6-8 senior from Hale High in Seattle who is ranked No. 2 in the recruiting Class of 2017 by Rivals.com, has orally committed to play at University of Washington. His dad recently accepted a position on Lorenzo Romar's UW staff. He once had KU on his list of schools. ... Former KU and Nebraska player Andrew White III is visiting Michigan State this weekend, Zagsblog.com reports. … Perry Ellis scored eight points and grabbed seven rebounds in Dallas' 80-74 win over Golden State. He hit four of eight shots in 20 minutes.