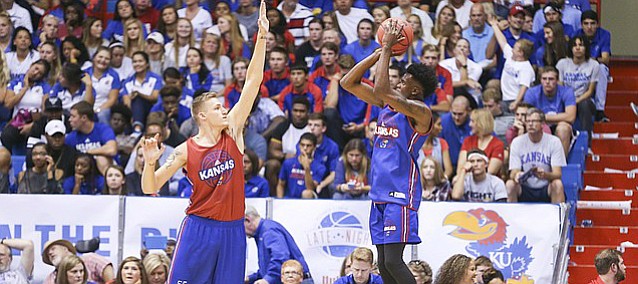 Although the news does nothing to damage KU's rotation this season, KU's crop of big men took another hit on Saturday, when 6-foot-10 center Evan Maxwell announced, via press release, that he was leaving the program.
"I'd like to thank Coach (Bill) Self, the other coaches and staff, and especially my teammates for allowing me to be a part of such a great program," Maxwell said in the release. "I just don't think it was the right time for me and this will allow me to focus more on my future."
Maxwell, a native of Clarks Summit, Pennsylvania, signed with KU in May after a two-year stint at Liberty and was on pace to sit out the season due to NCAA transfer rules.
He was not in attendance at Friday night's 86-80 TCU victory in the Big 12 opener for both teams.
With two seasons of eligibility still to use, the forward, who averaged 10 points and 4.8 rebounds per game during his sophomore season at Liberty, had high hopes for his time at Kansas. He was not alone.
"We were all excited when Evan committed and we all had high expectations for him," Self said. "This semester did not go the way Evan had anticipated. We support his decision to take some time away to figure out what he wants to do moving forward. He's a tremendous young man and we wish him nothing but the best."
With senior Landen Lucas graduating, the Jayhawks now are guaranteed to lose two front court players from the current roster. However, injured freshman center Udoka Azubuike, freshman forward Mitch Lightfoot and junior Dwight Coleby all are expected to return.
Beyond that, the future of sophomore Carlton Bragg Jr., remains up in the air, though it now looks far more likely that he could return for a third season than it did when the season began. And the Jayhawks also are anticipating the addition of forward Billy Preston, the No. 8-ranked player in the Class of 2017 according to Rivals.com, who signed with KU in November.