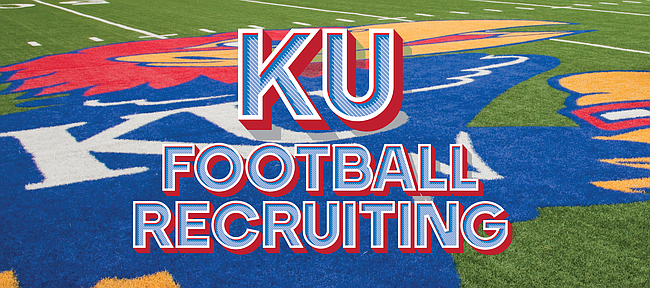 When eight new Kansas football players arrive in Lawrence ahead of the spring semester, only one could potentially stick around and contribute for four seasons.
Quarterback Peyton Bender, defensive tackle J.J. Holmes, receiver Kerr Johnson Jr., defensive linemen Willie McCaleb and KeyShaun Simmons, and cornerback Shakial Taylor all will debut for the Jayhawks in 2017 as juniors, after transferring in from their respective junior colleges. Corner Hasan Defense, who only spent one year playing for Kilgore College, will be a sophomore.
But head coach David Beaty and his defensive assistants were thrilled to land a high school senior on mid-year signing day this past week, too. Kyron Johnson, a linebacker from Arlington, Texas, who graduated early, will dive into offseason conditioning and spring football at KU while most of his prep peers continue to work toward graduating from high school.
Beaty described Johnson's speed as "blazing," before sharing the Lamar High talent ran his 40-yard dash somewhere between a "low 4.4" seconds and a "high 4.3" at KU's Friday Night Lights camp in June, when the linebacker first verbally committed.
The Kansas staff felt even better about Johnson, a three-star prospect according to Rivals, when Beaty witnessed him practicing at inside linebacker. The offense had called a bubble screen to the right side and the future Jayhawk immediately caught the attention of the college coaches watching on the sideline.
"He runs past about four defenders and just blows this poor kid up," Beaty recalled. "You know, you see that play and you're like, 'You know, man, that was pretty good.' And you watch him the rest of the day and he is all over the field and he can fly."
Although Johnson is listed at 6-foot-1 and 200 pounds, Beaty said he is closer to 6-2 and 205 already and will continue adding more muscle to his frame once he gets to KU. The coach envisions him eventually playing closer to 230 pounds, with speed in the open field and long arms to aid his tackling.
"So length and speed is what this league has turned into," Beaty said, "and you need guys that can do that. He can not only be a great player inside, because he's very strong for a guy his size, but he can cover folks, because he can run. He can move light side-to-side."
KU's head coach said Johnson should at least be able to contribute on special teams immediately. He'll join a group of returning linebackers that includes Joe Dineen, Keith Loneker Jr., Osaze Ogbebor and Denzel Feaster.
"We're gonna need him," Beaty said. "We don't have many guys that can run that fast on this team, period — particularly at that linebacker spot. Not many people do. That dude can run."
Johnson plans to take on a pre-med course load at KU, with professional aspirations of one day becoming a neurosurgeon.
"We're gonna like this guy. He's a very mature young man," Beaty said. "So it would be nice to see him be able to contribute for us as a young player."
At the very least, Johnson will have a head start on most college freshmen.