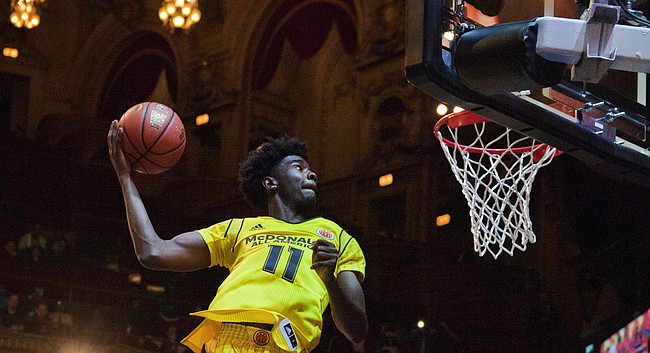 Josh Jackson hype took a slight hit on Tuesday when ESPN.com's final Class of 2016 rankings listed the future Kansas University shooting guard as No. 2 high school senior prospect in the country.
Jackson — he figures to remain Rivals.com's top-rated recruit when that Website releases its final ratings — is ESPN's runner-up to incoming Duke forward Harry Giles, a 6-10, 220-pounder from Oak Hill Academy in Mouth of Wilson, Va.
Giles missed most of his senior season because of a torn ACL. The 6-foot-7 Jackson, meanwhile, averaged 26.9 points, 13.1 rebounds and 6.3 assists per game his senior season at Prolific Prep in Napa, Calif.
"When Giles (ranked No. 2 by Rivals.com) tore his ACL, he was the most dominant and consistent high school prospect in the country. He was a true difference-maker. We never penalized him for his injury, in fact we rewarded him for his play," ESPN national recruiting director Paul Biancardi wrote at the Web address: http://es.pn/24iMBn1.
Giles told ESPN he expects to be "ready by November." KU will play Duke in the Champions Classic on Nov. 15 in New York.
Jackson earlier in the season was ranked No. 3 by ESPN.com. In the final rankings, he moved past future Duke forward Jayson Tatum, 6-8 from Chaminade High in St. Louis.
"In most classes, Josh Jackson or Jayson Tatum could easily be the No. 1 player. Jackson continues to impose his will. The small forward's versatility and ability to impact the game in so many different categories moves him to the No. 2 spot," Biancardi wrote. "Offensively, he thrives in transition by finishing and he can score at ease in the half-court set. It's no secret his jumper is under construction, but he's a playmaker with a high basketball IQ and his real worth on the defensive end. He's a committed and tenacious defender who can switch on to almost any offensive player and make a stop.
"Tatum, at No. 3 has a gift for scoring in a variety of ways. He's a difficult matchup in the half-court set because he scores with a much-improved three-point shot and a middle game that is the best in the class," Biancardi noted.
Incoming KU power forward Udoka Azubuike, a 6-10, 280 senior from Potter's House in Jacksonville, Fla., will enter college ranked No. 22 by ESPN. KU's Mitch Lightfoot, 6-8, 210 senior from Gilbert (Ariz.) Christian, is ESPN's No. 67-rated player.
ESPN's top 100 list is available at: http://es.pn/1rgFP2W.
"After evaluating the class of 2016 for years, it developed into one of the strongest classes we have seen in recent history," Biancardi said. "While the class doesn't necessarily have franchise or NBA-level athletes like Anthony Davis, Jahlil Okafor or Andrew Wiggins, it does have heavy star power and future stars in the making. The class has no weak positions, and with quality depth throughout, we expect that talent to blossom over time.
"Last year in college basketball, it was about the outstanding seniors and some dynamic freshmen. Next year, college basketball will be saturated with talent from the freshmen class. The 2017 NBA Draft will be one of the most exciting in years," Biancardi stated.
Early entries galore: The NBA announced Monday that 117 college players and 45 international players had filed as early entries for the 2016 NBA Draft. Players wishing to enter the draft were required to submit a letter to the NBA to be received no later than April 24. In order to retain college eligibility, underclassmen must withdraw from the draft by May 25. As expected, the NBA's list included KU's Wayne Selden Jr., Brannen Greene and Cheick Diallo.
Tour full speed ahead: KU's senior basketball players will participate in the annual "Barnstorming Tour" basketball games. So far, Perry Ellis, who is training in Houston, has signed up for one of the four contests — May 6 at Wichita East. Hunter Mickelson, Jamari Traylor and Evan Manning will participate in all four games. The schedule ... Saturday, April 30: at Leavenworth Patton Junior High. Autographs 4 p.m., game 6 p.m. Wednesday, May 4: at Lebo High School. Autographs 5:30 p.m., game 7:30 p.m. Friday May 6: at Wichita East High School. Autographs 6 p.m., game 8 p.m. Saturday May 7: at Garden City High School. Autographs 3 p.m., game 5 p.m.
Offers: Ira Lee, a 6-7, 215-pound junior power forward from Prolific Prep in Napa, Calif., has been offered a scholarship by KU, Rivals.com reports. Josh Jackson's former prep teammate is ranked No. 48 in the Class of 2017 by Rivals.com. ... Collin Sexton, a 6-1 junior point guard from Pebblebrook High in Mableton, Ga., who is ranked No. 59 in the Class of '17, has been offered a scholarship by KU, Rivals.com reports. He is slated to visit Alabama on Friday, Rivals stated.
More like this story on KUsports.com