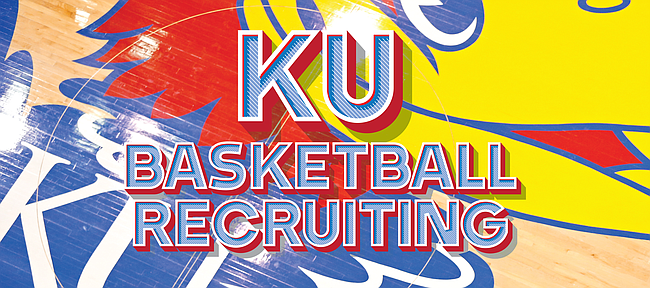 Marques Bolden, a 6-foot-10 senior basketball center from DeSoto (Texas) High, will not take his scheduled visit to Kansas University this weekend, ESPN.com reports.
Rivals.com's Eric Bossi says that visit date actually was never finalized.
Instead, Bolden, who is ranked No. 16 in the Class of 2016 by Rivals.com, will attend the Oct. 9 Late Night in the Phog. Bolden has a final list of KU, Kentucky, Duke, Alabama, Oklahoma, Baylor, TCU and Wake Forest.
Leaf update: T.J. Leaf, a 6-10 senior forward from Foothills Christian in El Cajon, California, who will visit KU on Oct. 16-17, this week told Scout.com he will visit Louisville on Oct. 2-3.
The No. 15-ranked Leaf who decommitted from Arizona in August, is also considering Kentucky, Texas, UCLA, California, Gonzaga, San Diego State and Indiana.
Leaf played for the Compton (California) Magic this past summer. He averaged 16.1 points and 8.4 rebounds a game for Israel in the Under 18 European Championship B Division tourney.
Giles keeps blogging: Harry Giles, a 6-10 senior forward from Oak Hill Academy in Mouth of Wilson, Virginia, who is ranked No. 2 nationally, updated his recruitment this week in his USA Today blog.
"The coaches recruiting me have been coming out strong to see me and they all say that they can't wait to get me on campus to show me the atmosphere, break down film, experience everything that they have to offer and everything like that so I'm excited about that," Giles wrote.
"I had a great visit to Wake Forest last weekend! I'm going to Kansas for Late Night in the Phog. After that I'm going to Kentucky for Big Blue Madness, North Carolina and I'll end up at Duke for Halloween weekend!"
He added: "Coach Williams (Roy, UNC) and coach Self (Bill, KU) came by last week and I had great meetings with both of them. Coach Self is just a cool guy and coach Williams is cool too. I have great relationships with both of them. Of course coach Manning (Danny, Wake) is my guy too and coach Calipari (John, Kentucky) was in last week and we had a great talk. It was definitely the best talk that I've ever had with coach Cal. It was just me and him and no one else. I know I've told you guys this before but this is gonna be a tough (decision)."
Duke commit Jayson Tatum, a 6-8 senior forward from St. Louis Chaminade who is ranked No. 3 nationally, hopes Giles ultimately winds up in Durham, North Carolina.
"Speaking of Harry, y'all already know that I'm staying on my man about joining me at Duke! I don't text him about it all the time, but, ya know, I just make sure to remind him where he needs to be every now and then," Tatum wrote in his USA Today blog.
"When we were in the Bahamas for the Nike event we were roommates and I'd lay the Duke shirt down on the table just to show him how good he'd look in the blue. Looks great on him!" Giles added.
Juco guard wants Monk: Daryl Macon, a combo guard from Holmes (Mississippi) CC who recently committed to Arkansas, has been talking to KU target Malik Monk about joining him at U of A.
"I just try to remind him playing for his state, your home state, there's nothing else like it," Macon told Arkansasonline.com. "Maybe we can make some things happen and we can go make to the Sweet 16 or the Elite Eight."
Monk, a 6-4 senior guard from Bentonville (Arkansas) High, has a final list of KU, Kentucky, Arkansas, Oregon, North Carolina and Florida State.
Vaughn a scout: Former Kansas University point guard Jacque Vaughn's new position with the San Antonio Spurs will be "pro scout," the team has announced.
Vaughn, 40, spent the last three seasons as head coach of the Orlando Magic. Prior to that, he spent two seasons as assistant on Spurs coach Gregg Popovich's staff.
A first-round pick of Utah in the 1997 NBA Draft, Vaughn played 12 years in the NBA. He played for the Spurs' 2007 NBA title team.
More like this story on KUsports.com