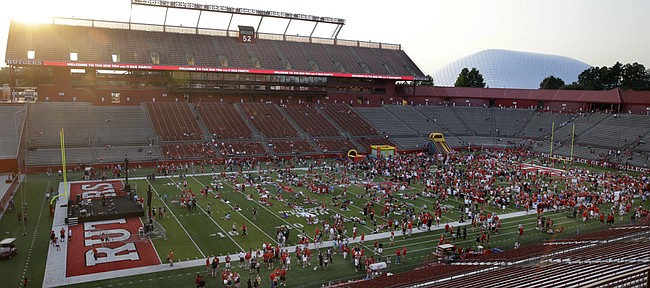 The original site, which today is known as College Avenue Gymnasium, actually sits about two miles away, but that's how close Kansas University's football team will be to a little slice of history this weekend, when it takes on Rutgers at 11 a.m. Saturday.
On Nov. 6, 1869, at a venue known then as College Field, the Rutgers Queensmen and Princeton Tigers squared off in what has since come to be known as the first college football game ever played.
The game, won by Rutgers, 6-4, actually looked more like soccer and featured the two university teams playing a best-of-10 "games" scenario in which "runs" were scored instead of goals or touchdowns.
The rules, which were determined by the home team, limited the two teams to advancing the ball by kicking or batting it toward the opponent's end, but certain primitive plays like the "flying wedge" and other formations like it inspired historians to dub this the earliest college football game ever played.
Although their focus will be on trying to win Saturday's game, KU coach David Beaty said earlier this week that he had talked to his team about the significance of this weekend's stage.
"If you value the game, then the history is important," Beaty said. "So we have talked a little bit about that. But more in a, 'Hey, man, look what a great opportunity we have.' More in an appreciation way. 'Man, look where we're at, what we're getting to do, how blessed we are to be able to play this game, compared to what some people are going through in this world. Man, we got it really, really good.' We're getting to go experience something not a lot of people do."
KU offensive coordinator Rob Likens will be experiencing it for the fourth time. And he can't wait.
"It's a pretty cool place to play," said Likens, who made trips to Rutgers when he coached running backs and wide receivers at nearby Temple from 1998-2003. "I've been there before, been up in the booth before. ... It's an historic stadium, an historic place, and it's gonna be a lot of fun. I'm looking forward to it."
It's not just the game and the return to High Point Solutions Stadium that Likens is looking forward to, though. When he was working at Temple — which is in Philadelphia — Piscataway, New Jersey, was his recruiting area, and his apartment was about 20 minutes away from the Rutgers campus. Because of that, he became familiar not only with the local football scene, but also the food situation around every corner. He's so ready to get back that, in addition to putting together KU's offensive game plan for on the field, he also has put together a little personal plan of attack off of it.
"I'm gonna get an everything bagel in the morning, pregame," Likens said. "And I'm gonna get a cheesesteak the night before, so I'm excited about that, too."