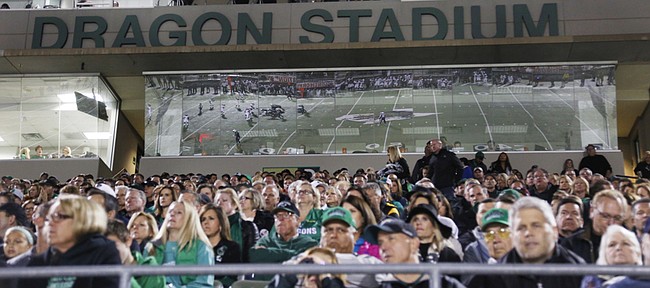 Southlake, Texas — The first indicator that the high school football program plays a more prominent role than in your average affluent town shows itself in the names of local businesses.
Dragon Storage, Dragon Xpedited LLC, Golden Dragon Lawn Care. The Dragon name is synonymous with winner. Hence, the eagerness to be associated with the name.
The Southlake Carroll High Dragons play their football games at Dragon Stadium, where they also practice, except when the weather moves them inside. The nearby Dallas Cowboys, a franchise valued by Forbes at $4 billion, do not have an indoor practice facility. When they need one, they borrow Southlake Carroll's.
Cost estimates for the stadium that opened in 2001 run as high as $19 million. In 2009, a $5 million renovation closed the east and west end zones, bringing the capacity to 11,000. Dallas Observer ranked Dragon Stadium No. 2 among high school venues, second to only Allen High's Eagle Stadium, a $60 million beauty that seats 18,000 and has a high-definition scoreboard that stands 38 feet high.
Four active NFL players, including Kansas City Chiefs backup quarterback Chase Daniel, played for Southlake Carroll. So did Greg McElory, who led Alabama to a national title and played one NFL season.
Colleagues Richard Gwin and Matt Tait and I visited the stadium for a game last Friday for our first taste of big-time Texas high school football.
Carroll seeks its sixth state title in 14 years. Friday's visitors, the Cedar Hill High Longhorns, former Kansas University receiver Dezmon Briscoe's alma mater, came into the game as two-time defending state champions.
Unbridled passion flowed freely on both sides of the stadium, but not every person in attendance could show an allegiance. One middle-aged man sporting a shaved head triggered wide grins from multiple spectators on both sides of the stadium. Coaches, coaches' fathers, referees and former players on hand to watch the big game spotted Kenny Perry, stopped what they were doing and rushed up to pin bear hugs on him. Perry, KU's cornerbacks coach and co-defensive coordinator, was at the game to evaluate prospects and more to the point, to be seen at the game by prospects.
During warmups, the fathers of both head coaches, Carroll's Hal Wasson and Cedar Hill's Joey McGuire, both lost that pre-game nervous look at the sight of Perry and spent time catching up with him.
"Kansas could not have picked two better men to recruit the state of Texas than David Beaty and Kenny Perry," George McGuire said from under the cowboy hat he wears only during playoff games. "Kenny and Joey are like brothers."
Joey McGuire turned down an offer to become part of University of Texas football coach Charlie Strong's staff to stay at Cedar Hill. A coach doesn't do that unless he cares deeply about helping his players, most of whom stay in touch with him regularly long after they have graduated high school. If McGuire's not comfortable with a college coach, he'll let his players and their parents know. Perry brings the endorsement of McGuire, Wasson and countless other Texas high school coaches into living rooms with him. That's huge.
College coaches are not allowed to discuss specific recruits with the media, but a check of Rivals.com records reveals that two of the three players who stood out the loudest in Southlake Carroll's 37-33 survival last Friday list Kansas among their schools of interest. (Carroll led 14-0 at the end of the first quarter, 35-21 at halftime and took a 35-33 lead into the fourth quarter).
Cedar Hill dual-threat quarterback Avery Davis and fleet, fluid wide receiver Charleston Rambo combined on a pair of second-quarter touchdowns covering 93 yards. They both have Kansas on their lists and both have big-time, Big 12 talent. Beaty and Perry give KU a legitimate shot at these sort of difference makers.
Carroll's Lil' Jordan Humphrey — only in Texas could a 6-foot-5 athlete who plays about 10 feet tall answer to "Lil'" — projects as an NFL tight end provided he adds enough muscle to his frame. He rushed for 164 yards and two touchdowns and amassed 113 receiving yards and a touchdown. He does not list Kansas. Hey, 2 out of 3 ain't bad given the level of talent on the field.
More than big and fast, physical and fearless athletes made this a night to remember for all of us. Officials from both schools were so hospitable, the traditions so memorable.
Speaking to his players in the visiting locker room before the game, Joey McGuire delivered a highly charged, emotional talk that even the best in Hollywood would have trouble matching on the silver screen. Cedar Hill never had won a playoff game until McGuire took over as head coach after the 2003 season. He has won three state titles. His speeches work. McGuire let his team know during his passionate pep talk that most high school football players would be intimidated coming into this stadium and he was proud in knowing they would not show any fear. They did not, repeatedly storming back from two-touchdown deficits.
As has been the case for the past 10 years on the road, when the players make their way out of the locker room, they do so to the sound of an activated chainsaw held by George McGuire. He fired it up for the first time because the Longhorns were playing at Lewisville Hebron.
"Their stadium was The Woodshed," George said. "You come to their stadium, they was going to take you to The Woodshed. We took the saw over there, beat them three times in a row, twice at their stadium. We sawed The Woodshed down. Ever since then, we've taken the saw."
George even took it to Cowboys Stadium, where he was told he could not turn it on. He must not have heard that instruction. He activated it, same as always, and the gas fumes triggered a fire alarm.
"There was nobody around who knew how to shut it off," he remembered with laughing eyes. "We must have played the whole first quarter with that thing going off."
The next stop for the players is at the front of the inflatable tunnel, which makes all road trips. The players stop at the front of it to touch a cow skull and then emerge from the gigantic, inflated Cedar Hill helmet and onto the field. Carroll has an inflatable tunnel as well.
Remember, everything is bigger in Texas, especially high school football.
More like this story on KUsports.com