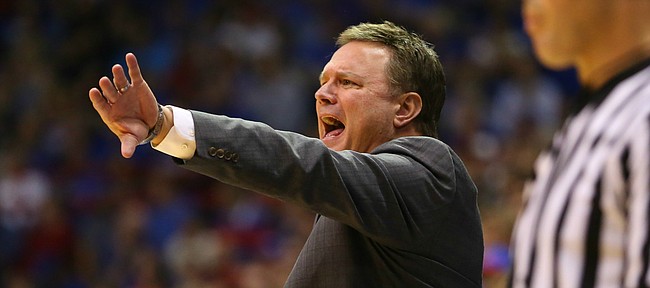 The mood in the locker room the day after Kansas University's 79-73 Champions Classic loss to Michigan State apparently was nothing like a year ago when the shell-shocked Jayhawks tried to make sense of a 32-point loss to Kentucky in the same event.
"Obviously it's a bottom-line business, wins and losses, but we didn't play poorly last night," KU coach Bill Self said Wednesday on his Hawk Talk radio show. "We controlled the game for 33 minutes. We didn't play well the last seven at all. There were some good things that happened last night and certainly some correctable things I think will make us better."
The (1-1) Jayhawks, who squandered a 13-point advantage, actually led for 30:39. MSU (2-0) led for 5:43. The game was tied for 3:08, according to the official box score.
"We met and talked about everything," Self said of Wednesday's gathering with the team. "I think they (players) are in agreement. There are some intangibles we didn't do that I think made a big difference in the outcome of the game, things like toughness.
"Thinking next play, forgetting what just happened, focusing on the next thing (down stretch). I think we can do a better job on that. I felt we let one (mistake) become two and two become three way too often. I felt we could have just (said), 'OK we screwed that up. We didn't guard this right, now we've got to hunker down and do this or that.' We got deflated a bit when things didn't go our way. You can kind of tell by body language. I think a little bit may have been fatigue as well. We've got to do a better job in a lot of areas."
KU was buried by Denzel Valentine, who scored 21 of his 29 points the final half, finishing with a triple double that included 12 assists and 12 rebounds.
"I thought Devonté (Graham) was the most effective guy we had on Valentine. The problem when he was on Valentine, somebody else had to be on Forbes (Bryn, three threes) or whatnot. We could have done a great job and he still would have had 19 points or whatever. What frustrated me was we let him get to his left shoulder and the paint multiple times and of course it ended up costing us," Self noted.
It was the second triple- double recorded against KU in history. Michigan State's Magic Johnson had 12 points, 11 assists and 10 rebounds in a win over the Jayhawks in 1979 in East Lansing.
"He (Valentine) was great. Triple doubles are usually 10, 10 and 10. He had 29, 12 and 12. He got a real triple double," Self said of the 6-5 senior from Lansing, Michigan. "He was by far the best player in the game. He only had one turnover. To think a guard skilled enough to get 12 assists, 12 rebounds, the ball always is in his hands and he turns it over once. We turned them over quite a bit (16 to KU's six). It didn't lead to a lot of points. We did a pretty good job in stretches defensively and very poor job in stretches."
KU's shooting both inside and out also was a concern.
"I could be pretty negative if I wanted to be about the game, but after watching the tape, good gosh we got the ball to two-feet a lot," Self said. "We made our free throws but seemed we missed every crucial bunny. I counted 14 missed layups that were legit, not easy shots, but ones you should make 11 or 12 of 'em.
"We put ourselves in a situation they scored nine straight points off threes off offensive rebounds or screwups, unfortunate plays which took it from 11 down to a very manageable number (for MSU). We were close to cracking it but just didn't get it done."
KU hit three of 15 threes and 34.8 percent overall. MSU hit 46.7 percent; 53.3 the final half in scoring 44 points.
"Gosh I wish we could have stepped up and made some shots," Self said, lauding Wayne Selden Jr. for drilling a three that gave KU a one-point lead with 1:52 left. "We were three of 15 from three but took three the last (meaningless) possession, so we got off 12 threes. They did a good job on that (defending KU). We got the ball where we wanted to go a lot of times, then you miss a couple, you don't play as aggressive and end up settling. We did that too much down the stretch.
"In a lot of ways we didn't play well at all. We shot a bad percentage, but led by 11 (actually 13). You can't do that if you are not playing tough. But we didn't finish the game playing tough in my opinion at all and that was the difference in the game."
Of Selden who had 12 points off 3-of-12 shooting, Self said: "Wayne I think is the key to our team as much as anybody else because we saw what he could do this summer in Korea at how great he was. He doesn't have to play to that level every night. We know that's not realistic because he was so good over there (in World Games). More consistently toward that level would elevate our team so much."
KU will next meet Chaminade at 8 p.m., Lawrence time, Monday in Hawaii. It's a first-round Maui Invitational game. The Jayhawks will leave for Maui on Friday.
Monk picks Kentucky: Malik Monk, a 6-4 senior shooting guard from Bentonville (Arkansas) High, who is ranked No. 6 nationally by Rivals.com, on Wednesday signed a letter-of-intent with Kentucky. Monk chose the Wildcats over Arkansas, KU and others. Kentucky also has signed No. 5-rated point guard De'Aaron Fox, No. 7-rated forward Bam Adebayo, No. 17-rated forward Wenyen Gabriel and No. 26 power forward Sacha Killeya-Jones.
Some now consider KU the frontrunner for No. 20-rated Jarrett Allen, 6-9 senior forward from St. Stephens Episcopal School in Austin, Texas. He also has Kentucky, Texas, Houston and Notre Dame on his list. KU, Duke and others are contending for No. 16 Marques Bolden, a 6-10 senior from DeSoto (Texas) High, who also likes Alabama. KU also is in the hunt for No. 1-rated Josh Jackson, a 6-7 guard from Prolific Prep High in Napa, California.