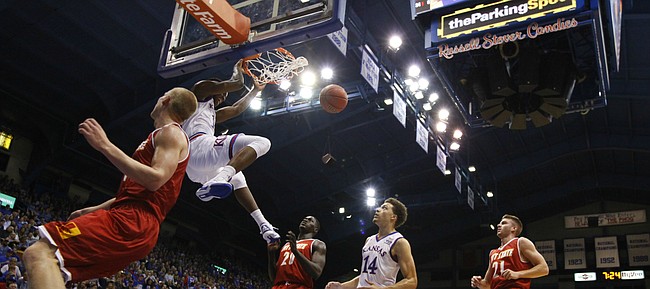 Carlton Bragg tossed and turned in bed on Tuesday night, hours before his exhibition debut with Kansas University basketball team.
"I couldn't sleep. I went to sleep about 1 and got up earlier than usual. I had a lot of nerves for my first college game. It was good, though," Bragg, KU's 6-foot-9 freshman power forward from Cleveland said after erupting for 14 points off 7-of-12 shooting and grabbing six rebounds while playing 21 minutes in KU's 89-66 rout of Pittsburg State in Allen Fieldhouse.
He was able to make it through the day on Wednesday without having to call back home.
"I dealt with it myself," Bragg said of nerves.
In fact, to soothe himself, he went to the Kansas Union to play the piano, a hobby of his that he displayed at the 2015 Late Night in the Phog.
Photo Gallery
Kansas basketball v. Pittsburg State (exhibition)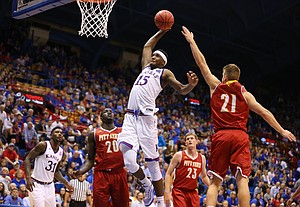 Images from Wednesday night's exhibition between the Jayhawks and Gorillas at Allen Fieldhouse.
"Yes, yes, a lot," he said of the sweet tunes having their desired effect.
The McDonald's All-American — who also said running through the layup line in pre-game warmups helped a lot — turned in several highlight-reel plays. He dished a high-low pass to Hunter Mickelson for an easy bucket and also ripped a powerful two-handed dunk and a one-hander off a pass from Perry Ellis (22 points, 12 boards).
Podcast episode
After discussing his team's exhibition opener against Pittsburg State, which exposed some weaknesses of Kansas, coach Bill Self details how busy and disappointing a day he had leading up to the game, due to being in constant meetings regarding the eligibility of freshman Cheick Diallo.
"I thought he was the best player in the game," KU coach Bill Self said of Bragg. "He played with energy. He played with a smile on his face. I thought he did terrific for a young kid out there. What Perry gave us was his standard. I thought he (Bragg) was the best player in the game. All our players did, too, in the locker room."
Self loved Bragg's touch on the high/low dish.
Podcast episode
Kansas basketball players Devonté Graham, Perry Ellis and Carlton Bragg discuss the Jayhawks' first exhibition of the 2015-16 season, an 89-66 victory over Pittsburg State.
"It looked like Marcus or Markieff making that play," Self said of the Morris twins, who were effective as juniors on the high/low. "I don't want to get giddy saying this is the ultimate performance, but he has been consistently good."
Soph guard Devonté Graham (seven points, eight assists, eight rebounds) said he loved Bragg's enthusiasm.
"The energy he brings to the court ... he's always smiling. He kind of took that role that I had last year," Graham said.
Bragg said the smile is by design.
"My high school coach told me, 'Always keep smiling. Your face should never change on the court,''' Bragg said.
He was asked about the white adidas headband he wore during the contest. Not many players in the 13-year Self era have worn headbands.
"It took a lot of hard work to get this headband He (Self) finally decided it was cool," Bragg said with a smile. "I had to prove it to him. It's part of my game," he added, noting he's worn one, "my whole life."
Self said his headband rules are simple.
"My rule is whatever they wear every day in practice and high school ... they can do that once they get here. They just can't change who they are once they get here," Self said. "Aaron Miles wore one, too. J.R. Giddens wore a headband in his time here. If a guy wants to wear something to call attention to himself that he's never done, we're not going to go for that. He (Bragg) didn't have to negotiate," Self added.
Frank Mason III had 14 points, four rebounds and four assists and Hunter Mickelson 10 points, six rebounds and four blocks in 13 minutes for the Jayhawks, who hit just four of 19 threes and 48.6 percent of their shots overall to Pitt State's 28.2 percent.
"Our perimeter play was deplorable," Self said. "Frank, Devonté had good stretches. Our five main perimeter guys played ... that's as poorly as we can play. They exposed us. They were quicker than us. We didn't guard the ball. We didn't slide very well. Those are great things to be pointed out. Now we know we can be exposed very easy."
KU will next meet Fort Hays State at 7 p.m., Tuesday in Allen.
— See what people were saying about the exhibition during KUsports.com's live coverage.
---
---
More news and notes from Kansas vs. Pittsburg State
---
More like this story on KUsports.com