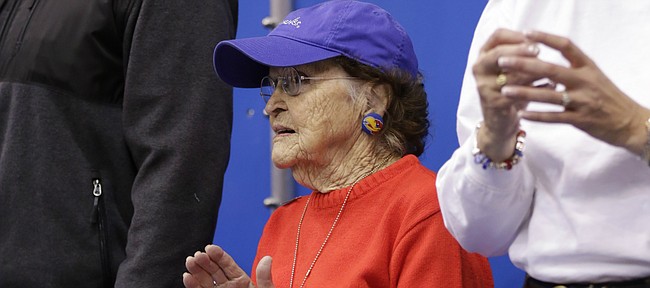 Local deejay Scott Simpson was set to take his friend David Lee Shirk to a Kansas University season-opening basketball exhibition vs. Washburn in Allen Fieldhouse, Nov. 4, 2009. Shirk didn't make it, dying two days before tipoff.
Simpson's phone rang the morning of the game. Margaret Shirk, David's wife of 69 years, was on the line.
"You know, Scott, David would have wanted us to go to the game tonight," Margaret said. So to the game they went.
On the six-year anniversary of that day, Simpson had Margaret on his arm again as they made their way to their second-row seats under the basket at the south end of James Naismith Court for Wednesday night's exhibition opener. In keeping with one of the coolest traditions in sports, such seats usually are saved for those with disabilities.
Photo Gallery
Kansas basketball v. Pittsburg State (exhibition)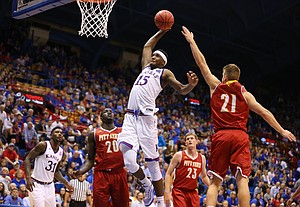 Images from Wednesday night's exhibition between the Jayhawks and Gorillas at Allen Fieldhouse.
"I'm not disabled," Margaret said, almost apologizing. "But I don't see very well, so they let me keep these seats."
Nobody seemed terribly upset at the possible fudging of the rules for someone experiencing her 81st season as a ticket holder, her first four when she was a student.
Podcast episode
After discussing his team's exhibition opener against Pittsburg State, which exposed some weaknesses of Kansas, coach Bill Self details how busy and disappointing a day he had leading up to the game, due to being in constant meetings regarding the eligibility of freshman Cheick Diallo.
Shirk, 98, wore a blue baseball cap with "Jayhawks" in sparkly silver script above the bill. It went well with her red shoes and with the Jayhawk ear rings made by her daughter, Nancy.
Every face lights up at the sight of Shirk, who spins yarns not often heard at basketball games, or anywhere else for that matter.
Podcast episode
Kansas basketball players Devonté Graham, Perry Ellis and Carlton Bragg discuss the Jayhawks' first exhibition of the 2015-16 season, an 89-66 victory over Pittsburg State.
Have a listen to Wednesday night's gem: "My father taught me to drive in an alfalfa field. He sent me to the bank every week. Starting when I was 10, I would drive there to pick up a thousand dollars and bring it back to him so he could pay the potato pickers."
Trusted at the age of 10 with keys to the family car and with $1,000. And the bank had no problem handing her the money. It's nice to know that nothing has changed in the world in the past 88 years.
Margaret's first KU game came "after I got out of high school," in 1935 and was played at Hoch Auditorium.
She said she doesn't have a favorite player because she likes them all.
"I like basketball and I like games," she said. "My dad used to take me to boxing matches out at Haskell when I was 5 years old."
That same year, she remembers, basketball's inventor, Dr. James Naismith, performed the wedding of her aunt and uncle in front of the fireplace of the farm home she lived in as a child from the age of 3 and lives in today, north of Lawrence.
She doesn't have a hint of "look at me, look at me, look at me," about her at the games and knows that the show is on the floor, not in the stands.
Her sweet disposition makes her so low maintenance, but that doesn't mean she doesn't find some things in life silly. Such as when she visits the doctor's office and is asked to step on the scale.
"You can weigh me if you want or I can just tell you what it's going to say," she tells the nurse. "It's going to say 101. They don't understand how I know that, but I know it because it never changes."
Neither does her attendance at KU games. She never misses one. In the early stages of KU's 89-66 victory against Pitt State, when the Jayhawks turned over the ball on consecutive possessions, she turned her palms to the sky, but it's not as if it ruined her mood.
"I think they're going to be quite good this year, really," Margaret said.
If not, there's always next year or the year after that. Margaret's in no hurry for another national championship. She doesn't view it as the team owing her anything. She's just grateful for the entertainment value the Jayhawks add to a life rich with friends, family, good health, two-and-a-half ounces a day of red wine and a daily 10-lap walk around the house.
"Not today," she said of the walk. "Too windy."
Not too windy to take a ride to the Park 'N Ride lot west of campus, transferring there into a van that drops passengers off at a south entrance to the fieldhouse.
The highlight of the game? One of her friends told her that at the next game they will compare notes and select a date for the woman to come again to the farm to cook dinner for Margaret. It won't happen on a game night. Those are spoken for. 
— See what people were saying about the exhibition during KUsports.com's live coverage.
---
---
More news and notes from Kansas vs. Pittsburg State
---
More like this story on KUsports.com