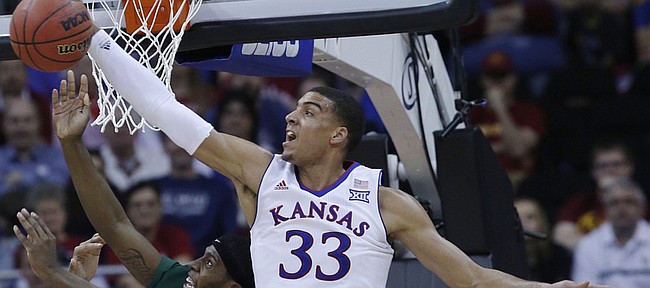 Kansas University sophomore power forward Landen Lucas suffered some significant aches and pains at the end of the 2014-15 basketball season.
"He was beat up," KU coach Bill Self said at the Jayhawks' postseason awards banquet. "He didn't even practice. He may have practiced the day before games. He had so much stuff (going on).
"He played hurt the whole year," Self added, while not addressing specific ailments.
Lucas, a 6-foot-10, 240-pound Portland native who had hip, knee and back discomfort at various junctures, explained the most serious of his problems after working as a camp counselor at Ed Fritz's College Stars camp Friday night at Blue Valley Northwest High School.
"After the season I had surgery done on my left leg. There was a small bone tumor in the shin area they had to take out," Lucas said, the word "tumor" sounding awfully scary coming out of his mouth. "It was nothing serious. It wasn't cancerous, but I had it from the start of the season. It's one of those things that was growing throughout last offseason, and I noticed it around Late Night.
"I think it caused some problems. It did give me some pain. Recovery time is six to eight weeks, so we knew we had to wait until after the season to do anything about it," Lucas explained.
Lucas, who averaged 3.5 points and 4.3 rebounds in 15.2 minutes a game, didn't need postseason surgery to alleviate his hip pain.
"I'm not even sure what it was. The MRI showed some small tears (in hip)," Lucas said. "Naturally, getting beat up throughout the year, everything added up. Toward the end of the season, it was hard, but nothing was bigger than the goals we were trying to accomplish (Big 12, NCAA titles)."
Lucas returned to the court just last week for basketball-related activities, feeling refreshed after being inactive all of April and part of March and May.
"I'm pretty much 100 percent now," Lucas said. "The time off I spent after the surgery was great for me. I had a bunch of minor things. All they needed was some time off. Now I'm working to get back in shape."
Lucas said he should be ready for the start of KU's World University Games practices, which Self has said should begin in early June. The Games are July 3-14 in South Korea.
"It's great. I think playing in the World University Games will help the whole team out," Lucas said. "It's going to help us get more focused and prepared. Personally I'm going to use it as a chance to get out there and play against good competition and work on some things."
KU has added two players thus far from the recruiting Class of 2015, but just one can play in the World University Games. Carlton Bragg, 6-9 from Cleveland, is eligible to compete, but Cheick Diallo, 6-9 from Mali, is not, because he is not a U.S. citizen.
Diallo and Ukraine native Sviatoslav Mykhailiuk can be around the team as managers, but cannot play in the Games or KU's two exhibitions vs. Canada, June 23 and 26 in Sprint Center in Kansas City, Missouri.
"I'm excited for both of them. They bring different skill sets," Lucas said of frontcourt signees Bragg and Diallo. "It'll be good for our team (in 2015-16 season) to have those additions. I think they are both hard workers, and they are committed to the program. As an older guy, I definitely like to see that because we'll try to teach them the ways, and hopefully they'll buy in.
"Some people have come up to me asking, 'How do you feel now that you've got six bigs on the team?' I'm excited for it. I think it's good competition. How are we supposed to get better and play better without it? I know personally there are a lot of things I'd like to work on, scoring with my back to the basket and other things. If I'm not doing that against good competition, it's going to be hard for me to get better. I'm happy to have both of them in," Lucas added.
Lucas — he said he'll soon return to Portland to see relatives and friends then report back to KU for summer school at the start of June — has big goals for his fourth year at KU. He was a red-shirt in 2012-13.
"When you come to Kansas, you expect to have great seasons, and I feel like in my time here we've yet to have a great season," Lucas said, "so being part of one is a goal of mine. Doing whatever we can in the offseason to get better is definitely a goal."
Self said junior-to-be Lucas has been a leader by example.
"The reason we won the (11th straight) league title outright was the play he made against West Virginia. It was an unbelievable play," Self said. Lucas blocked an inside shot of Nathan Adrian to force overtime against the Mountaineers on March 3 in Allen Fieldhouse. KU went on to win in OT, 76-69, then lost its regular-season finale at Oklahoma, finishing a game ahead of OU and Iowa State.
"It was an unbelievable play. He fell hard," Self added of Lucas hitting the floor after the block. "We still had five more minutes to play. Nobody (players or coaches) went out and checked on him. Nobody wanted to think about that (him possibly not being able to play in overtime). We don't win it without him."
Eubanks to visit?: Former Baylor signee Kobie Eubanks, a 6-5 senior from Elev8 Sports Academy in Delray Beach, Florida, tells Zagsblog.com he hopes to visit KU and Alabama soon. Rivals.com's No. 101-rated player in the Class of 2015 also is considering West Virginia, Texas, Arkansas and others.
"They say they need an impact guard to come in and score right away," Eubanks said, referring to KU Self and assistant Jerrance Howard.
"I'd say about a week or so," he added to Zagsblog, referring to time frame for picking a school.
Former SMU commit LeGerald Vick, a 6-5 combo guard from Douglass High in Memphis, will visit KU on Wednesday and Thursday after visiting K-State this weekend, Zagsblog reports. He's to visit Kentucky next weekend. Zagsblog says Vick still must qualify academically before reclassifying to 2015 from the Class of 2016.
More like this story on KUsports.com