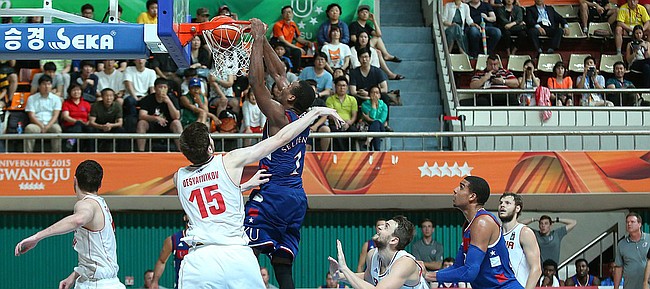 Gwangju, South Korea — Motivated by early exits from the NCAA Tournament for the past two seasons, Kansas University junior guard Wayne Selden Jr. wants to lead the Jayhawks to the next level.
He's getting an early start this summer.
Selden lifted the United States' men's basketball team to the World University Games' gold-medal game, drilling a go-ahead three-pointer with 6:25 remaining in an eventual 78-68 victory over Russia on Sunday at Dongkang College Gymnasium.
It's the first time the U.S. will play for gold since 2005 and the first medal since 2009. The Jayhawks will face Germany for the gold medal at 9 p.m. Monday (7 a.m. CDT on ESPNU) at Yeomju Gymnasium.

After Selden's three gave the Jayhawks a two-point lead, he grabbed a rebound and carried the ball down the court for an acrobatic, spinning layup. SMU senior guard Nic Moore followed with a long jumper, and KU senior forward Perry Ellis added a layup, helping USA grab a 70-64 lead.
"We've just been working," said Selden, who finished with 22 points (9-of-14 shooting) and six rebounds in 39 minutes. "Everybody has been in the gym. We've been working hard because we feel like we just have something to prove, and we have a lot of unfinished business. We never really touched where we could be at (last season). We never really got to where we could be at as a team, and we really want to achieve that this year."
Photo Gallery
Team USA vs. Russia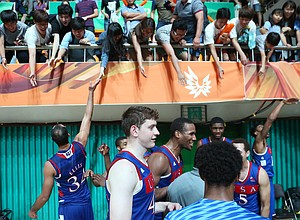 Photographs from the Team USA 78-68 semi-final win against Russia, Sunday, July 12, at the World University Games in South Korea.
After Russia cut the margin to 70-65 with four minutes left, Selden caught the ball in the left corner, drove past a big man who was running toward him and flushed a one-handed slam to give the Jayhawks a seven-point lead.
"How the cookie crumbles, I guess," a smiling Selden said of his big plays in the fourth quarter throughout the tournament. "It's just how it happened. My teammates found me when I was open. Landen (Lucas) saw me on the kick-out. Frank (Mason III) was driving the ball. Perry was driving the ball. We just made it happen."
The undefeated Jayhawks owned a 61-49 lead in the third quarter when KU junior forward Lucas went on a personal 7-0 run with two layups plus a bucket-and-the-foul, then assisted on a layup for freshman forward Carlton Bragg, and Selden drained a three.
But Russia responded with a 13-0 run over the next five minutes when the Jayhawks missed seven shots and turned the ball over five times. Russian guard Nikita Barinov put his team in front with a layup-and-the-foul bucket for a 62-61 advantage.
"I think we just gave up some good looks," said Mason, who had 10 points, six rebounds, four assists, three steals and five turnovers in 38 minutes. "Guys didn't fight through the screens, and they've got some good shooters on their team. They knocked the shots down, which led to a run. After that, we just got stops, and that helped us out."
Then Selden went on a quick 5-0 run, started by his step-back three-pointer, and the Jayhawks never trailed again.
"He's been superior to everybody," Kansas coach Bill Self said of Selden. "He played to his athletic ability. Shot selection was terrific. And, of course, he only played 38 or 39 minutes. He and Frank, we couldn't take them out with Nic getting in foul trouble. Yeah, he played great."
Mason added: "I have a lot of confidence in Wayne. He's showed it all tournament. He's been the best player here so far. Hopefully he can keep that going tomorrow and get the gold."
http://www.youtube.com/watch?v=WiU6M8vSUHc
Ellis led the Jayhawks with a game-high 23 points, including 14 in the first half. He started 1-of-7 from the field but finished 8-of-21, adding four rebounds.
Russia trailed by six, 72-66, with just under three minutes remaining, but the Jayhawks forced two misses on defense, and Ellis added a layup inside with 1:08 left for an eight-point lead.
"My teammates and stuff, man," Ellis said of ability to break out of the slump. "They just tell me to keep attacking, 'If you miss shots, oh well. Don't get down. Just keep attacking and keep playing hard,' and that's what I kept doing. I fought through it."
"I was expecting it," Lucas added. "He was due for one of those games. Hopefully he can have another one tomorrow."
http://www.youtube.com/watch?v=y-aoEkaIRg0
After holding a three-point lead at halftime, the Jayhawks held Russia to 34 percent shooting in the second half and forced nine turnovers.
"The biggest thing … is that I thought the second half, when we kind of took the lead, we guarded them much better," Self said. "Their ball movement wasn't near as good the second half as it was the first half."
Germany advanced to the gold medal game with a 58-48 victory over Brazil on Sunday afternoon. Bogdan Radosavljevic led the undefeated German team with a game-high 11 points and 13 rebounds.
"Since I've been here, we've done good in the conference but postseason play we haven't been able to do what we've wanted to do," Selden said. "And that's what we're working toward. We're working to get this gold tomorrow, but this is just a step in our process."
---
More from USA-Russia
---