Gwangju, South Korea — Kansas University senior forward Perry Ellis opened Sunday's 78-68 victory over Russia in the World University Games semifinals with a dunk on the first possession, breaking past the defense in transition.
Then Ellis missed his next six shots from the field at Dongkang College Gymnasium. He struggled against Russia's size and had trouble holding position inside the paint. But his teammates told him to keep attacking.
Ellis followed it up with a game-high 23 points on 8-of-21 shooting.
"They had a lot of length," Ellis said of Russia's post players. "I just kept attacking and kept going at them."
Photo Gallery
Team USA vs. Russia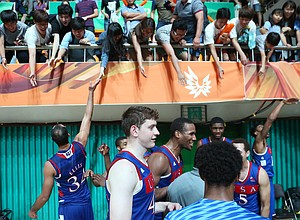 Photographs from the Team USA 78-68 semi-final win against Russia, Sunday, July 12, at the World University Games in South Korea.
Ellis scored nine points in the second quarter, drilling a three-pointer, two jumpers, plus a layup-and-the-foul bucket. He led the Jayhawks with 14 points at halftime.
"He was aggressive," Kansas coach Bill Self said. "It's not easy to score over 7-(foot)-3, and he tried. He took him away from the basket. Didn't make shots early, and he made a bonehead turnover there late, but I'm telling you what, he played very, very well."
Before Sunday's 23-point performance, Ellis was averaging 10.7 points and 6.3 rebounds in the tournament.
"It was good. I was expecting it," KU junior forward Landen Lucas said. "He was due for one of those games. Hopefully he can have another one tomorrow."
Freshmen step up
Kansas freshman Carlton Bragg and Lagerald Vick won't stand out in the box score from Sunday's victory, but Self was happy with the plays they made when they were on the court.
Bragg played 10 minutes with senior forward Hunter Mickelson in foul trouble, and Vick was on the court for 11 minutes when SMU senior guard Nic Moore picked up his third foul in the third quarter.
"You stop and think about it, we've got five big guys we're rotating, and (Bragg is) one of the five, so he's naturally not going to play as many minutes," Self said. "On the perimeter, we've got five perimeter players, and it seems like to me, Nic is always in foul trouble, so sometimes that's four. So Lagerald, even though his numbers aren't huge, he's had probably more crunch-minute opportunities."
Vick scored four points (2-of-3 shooting) with two rebounds and a steal. Vick's steal led to a dunk.
"I thought Lagerald was good again tonight," Self said. "I thought he was good. I think he's getting better."
Bragg had two points and a turnover. He made a layup in the third quarter, receiving a pass from junior forward Landen Lucas in the low post.
"To me, Carlton is about as impressive of a skills-standpoint big guy (as) we've had," Self said. "Perry was really skilled as a freshman and things like that. But Carlton, you haven't seen how well he shoots the ball yet. This kid, and he can really pass, he's going to be a good player. I think they've both grown."
http://www.youtube.com/watch?v=WiU6M8vSUHc
History lessons
Before Sunday's game against Russia, the Jayhawks discussed some of the history between the two countries, including the infamous USA and Russia 1972 Summer Olympic Games final in Munich, Germany.
Trailing by one point in the final seconds, Russia received three inbounds plays because of different officiating errors, leading to Russia winning at the buzzer and taking the gold medal. 

"We talked about the Munich game last night, which all our guys really study 1972," Self deadpanned. "But we talked about that and everything. The guy that's our liaison with the team … has done a great job because he's so well-versed in what's going on in different countries. He's done great educating us on how to educate our players. It's been good.
"I think (the liaison) even sent us all Rocky vs. Ivan Drago," Self added, referencing the movie "Rocky IV". "I'm not sure that had anything to do with us winning, but it's kind of fun."
http://www.youtube.com/watch?v=y-aoEkaIRg0
Conditioning
Despite Kansas junior guards Wayne Selden Jr. and Frank Mason III playing more than 38 minutes Sunday, the Jayhawks appeared to wear down Russia in the second half.
"We're running on fumes," Self said. "But I would bet every team is running on fumes, too. The thing about Russia that's a little bit different, their leading-minute player had played 22 (minutes per game) coming into our game. Our guys are playing 35 or close to it. But kids are tough, and they're having fun. I think they'll get their batteries recharged for a gold-medal game."
Russia shot 35 percent from the field and had nine turnovers in the second half. The Russians went 4-for-9 from the free-throw line in the fourth quarter.
"I think maybe, I could be wrong, they didn't look as fresh in the second half as what they were in the first half," Self said. "First half, they played faster. We couldn't keep up with them first half with their ball and body movement. Second half, the game actually slowed down, which was to our benefit. Then we had enough guys make individual plays offensively. Perry and Wayne primarily."
---
More from USA-Russia
---