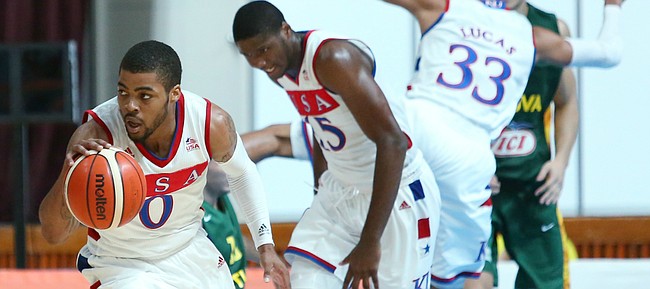 Gwangju, South Korea — The United States men's basketball players couldn't find any rhythm on offense in the third quarter against Lithuania in the World University Games quarterfinals on Saturday at Dongkang College Gymnasium. 
So in the fourth quarter, they turned to their defense to create opportunities. The Jayhawks scored 15 straight points to earn a 70-48 victory and advance to the tournament semifinals. 
SMU senior guard Nic Moore started a 25-2 run in the fourth quarter with a steal and layup before KU junior point guard Frank Mason III drove to the rim for a layup-and-the-foul. Moore added another steal and short jumper in the first 90 seconds of the period. 
"We really guarded the second half," said Kansas coach Bill Self after his team held Lithuania to 17-percent shooting in the last two quarters (6-for-35). "I mean we really guarded. I don't know if a team can play much better summertime defense than that in the second half. We did a real good job after ball screens and were fortunate they missed shots." 
Photo Gallery
Team USA vs. Lithuania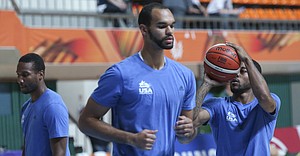 Photographs from Team USA vs. Lithuania in quarter-final game Saturday, July 11, at the World University Games in Gwangju, South Korea.
Lithuania entered the quarterfinals with the most points in the tournament, averaging 86.6 points per game. It finished 4-for-27 from deep (15 percent) Saturday. 
"We all just came together and decided that we wanted to lock in on defense, and just get stops," said Mason, who scored a game-high 18 points with seven rebounds and four assists. 
After the Jayhawks went on a 10-0 run and Lithuania called a timeout, Lithuania guard Paulius Dambrauskas missed an open three-pointer following an offensive rebound, and Kansas junior guard Wayne Selden Jr. made his opponents pay with a three-pointer from the right wing for a 55-42 lead. 
After Selden's three, the rout was on, with seven different scorers contributing to the big 25-2 run. Moore and Mason combined for 10 steals (six from Moore). 
"It starts with our bigs," Moore said. "They were dominant on the glass and stuff. That allowed me, Frank and Wayne to be aggressive on the perimeter and get steals. I think Frank got a steal, then I got one and then Frank got one again. After that, we just picked up the pressure and I don't think they had an answer for it." 
In the third quarter, Lithuania held the Jayhawks to 21 percent shooting (3-of-14) and cut the margin to 43-42 with one minute left in the period after USA took a seven-point halftime lead. 
"There's a lot of things that you can't control," said KU junior forward Landen Lucas, who had seven points and nine rebounds in 20 minutes. "You can't control what the refs are doing. The rules are different. The shot clock is different. The one thing that you can control is playing defense. We knew we had to get out there and play some good defense." 
"A couple of times, we didn't have a great possession and we didn't move the ball from side to side, which led to bad shots," Mason added. "But then later on in the (half), we had great ball movement, which led to great offense, and that's how we got the run."
In the first quarter, the Jayhawks jumped to a 21-13 lead, scoring on eight of their first 15 possessions. Ellis had seven points in that stretch while Mason and Selden added five points each. Selden finished with 13 points on 5-of-10 shooting while Ellis had 11 (5-of-18). 
"Wayne is playing to win," Self said. "He didn't score the ball as well today, but God, he made some big time NBA-type plays. That last drive he made at the end of the (shot) clock (in the fourth quarter), when he split the defender and threw a runner off his left foot ... that's a big-time play." 
But the Jayhawks won the game with strong defense in the second half, never giving up their lead when their offense struggled. 
"It took a little while for us to figure it out," Lucas said of Lithuania's offense. "By the fourth quarter, we had a way to guard ball screens and we kind of just got them out of the rhythm of things. We guarded very well."
The Jayhawks will play in the semifinals against Russia at 6:30 p.m. Sunday (4:30 a.m. CDT on ESPNU) Sunday at Dongkang College Gymnasium.
"We're excited, but I mean we know that we could still come out here and not even get a medal," Lucas said. "So we've still got to win games. Nothing is guaranteed at this point in time. We came out here for the gold and that's what we're going to try to get." 
---
More from USA-Lithuania
---