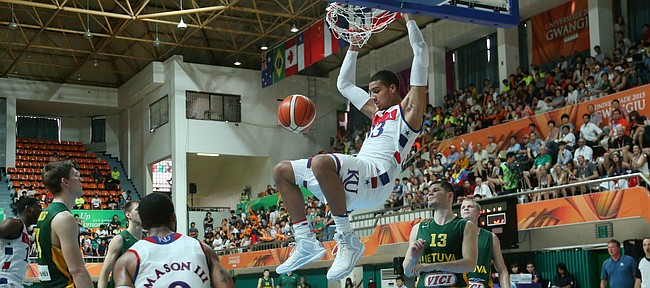 Gwangju, South Korea — Kansas University junior forward Landen Lucas bounced back in a big way in Team USA's 70-48 victory over Lithuania on Saturday at Dongkang Gymnasium. 
Lucas scored seven points (3-of-5 shooting) and added a game-high nine rebounds in 20 minutes. 
"I thought Landen Lucas played by far his best game," Kansas coach Bill Self said. "I thought he kind of clogged everything up in the middle on a night where we still didn't make shots.
"Landen, to me, he played to his strengths today," Self added. "He's really a good player when he's playing to his strengths and playing with energy, and being a good screener, a good rebounder and a ball-mover. Then he'll score when he does those things." 
Lucas played for the majority of the fourth quarter, cutting off driving lanes for Lithuania's guards. 
Photo Gallery
Team USA vs. Lithuania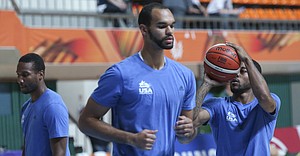 Photographs from Team USA vs. Lithuania in quarter-final game Saturday, July 11, at the World University Games in Gwangju, South Korea.
"Man, if it wasn't for Landen, it wouldn't have been an outcome like that," SMU guard Nic Moore said. "He was dominant on the glass. I tried talking to Landen, just telling him, 'Next play and keep getting boards.' He was great tonight."
Lucas was scoreless in 13 minutes in Thursday's 96-57 victory over Switzerland, and didn't play in the second half on Wednesday against Serbia. 
"It was good. It's been an up-and-down thing, but everybody is getting a chance to get out there and play," Lucas said of Saturday's breakout game. "I think it's good for our experience and I'm just happy we got the win because the main thing we're coming out here to do is win the gold."
Lucas said one of the big keys is staying positive mentally when he has bad stretches. 
"Probably, yeah. It's hard," Lucas said. "You're in a different country, eating different foods and all kinds of stuff. But at the end of the day, we all have to understand that there's one goal and it's nice to get out there and be able to help your team."
Lucas drew three fouls on offense, fighting for space inside against Lithuania's post players.  
"It was physical. I like physical," Lucas said. "I was hoping to get a couple more calls, but, I mean, it's good practice for us. Really, at the end of the day, it's just fun trying to play defense. That's what really got us the win at the end of the day."
Langford makes first cut
Former Kansas guard Keith Langford made the first cut of the 2015 United States men's basketball Pan American Games roster. 
Langford is one of the 16 players remaining in training camp in Colorado Springs, Colorado, until July 12. Wichita State's Ron Baker and Fred Van Vleet, Oklahoma's Isaiah Cousins and Baylor's Taurean Prince were among the players to also make the cut. 
The 12-player team will play in the Games on July 21-25 in Toronto. 
---
More from USA-Lithuania
---