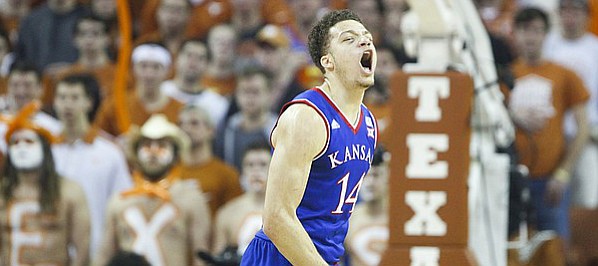 Kansas University sophomore guard Brannen Greene had three-hour surgery today in Nashville, Tennessee to repair a torn labrum in his hip.
"Everything went well. He will be in a state of limited physical activity the next two months and on crutches, and after that start physical activity. In four months he will be back 110 percent pain free," Greene's dad, Jeffrey Greene, said in a phone conversation.
Coach Bill Self said, "the rehab will be somewhat significant because he'll be on crutches for eight weeks and probably not return to the basketball court for approximately five months."
Jeffrey explained the injury: "He had a torn labrum he did in early February that he didn't tell anybody about. He couldn't push off his right leg and jump off his right leg. It got worse. The inflammation was the pain he was feeling. It continued to swell and swell.
"Genetically when you are 7-years-old you start to form that ball socket. The ball socket was a tiny bit bigger than they felt it should be, so they shaved it down a bit. He had no bone spurs. It went well. He is in recovery in a good amount of pain. Give it a day and the pain should subside."
Jeff Greene said Brannen wanted to keep playing thus didn't inform anybody about a possible hip problem this past season.
"I noticed he wasn't getting any lift on his shot. It was flatter than normal at times. It wasn't the same repeating motion," Jeff said. "After a few games I was saying to him, 'Why is your shot different? It's a different shot than the one that got us here.' He was trying to keep his condition from everybody, me, the staff, the trainers. He was saying, 'I just need to stretch out a little more.' I knew he wasn't getting lift on the shot. He didn't want us to know he was injured other than, 'I think I tweaked something.'''
Greene's dad noticed his son had trouble getting out of a chair at the team hotel during the Big 12 tournament, but Greene again said he was just sore from the previous game.
"He came home two weeks ago. He yelled getting out of a chair and had trouble walking. I said, 'What in the heck is wrong?' He said, 'I hurt it. I got hit in a game, hit in practice, my hip has not been the same.' I said, 'This happened right before the (shooting) slump didn't it?' He said he hurt it but it wasn't as painful but keeps getting worse," Jeffrey said.
So it was checked out and surgery was deemed the solution. The surgery was performed by Dr. J.W. Thomas Byrd at Nashville Sports Medicine and Orthopaedic Center. The Tennessee Titans team physician has authored several textbooks on hip arthroscopy.
Self is counting on Greene to not miss any games to start the 2015-16 season.
"Brannen, his father and Bill Cowgill (KU Associate Director of Sports Medicine) traveled to Nashville this week to have hip surgery performed by Dr. (J.W. Thomas) Byrd, one of the most experienced hip surgeons in the United States," Self said. "Surgery went very well. Everything went as planned. It should not impact practice as he should be full speed by the time we start practicing."
Greene spoke to the fans via Twitter this afternoon: "Thank you guys for all the well wishes. Just a bump in the road. Can't wait to get back on the court with my brothers!"
— More in Friday's Journal-World and at KUsports.com