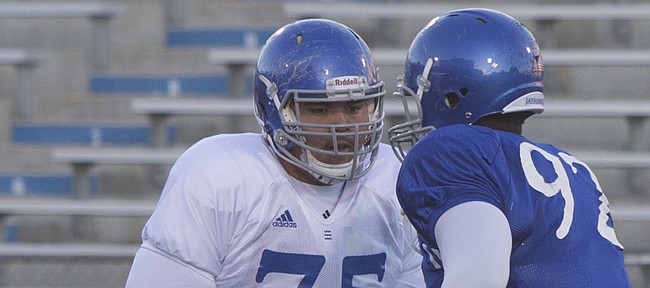 He arrived at Kansas University with the funny Samoan name and huge frame but quickly has become one of the brightest spots of the 2014 KU football season.
Freshman offensive lineman Apa Visinia Jr., who goes by "Junior" almost exclusively because he always was bugged by the sound of his given name — Ah-puh, which means "can" in Samoan — has, in just a few weeks time, gone from relative unknown waiting his turn to key contributor on the Jayhawks' offensive line.
His impact and progress first started to show up a few weeks ago, but his presence became critical when senior left guard Ngalu Fusimalohi was lost during the Iowa State game to a season-ending injury. Visinia filled in for Fusimalohi for the rest of that game and then made his first career start last week against No. 5 TCU.
"I feel like he's excelled with the playing time he's gotten," junior quarterback Michael Cummings said of Visinia. "To see a young guy step in there and see him do as well as he's done, that's great. That's great for him and for the program because he's definitely gonna be a staple for years to come."
Offensive line coach John Reagan said he never worried about Visinia's readiness when it was time to throw the Grandview, Missouri, native on the field.
"Because of his strength, I figured he would be OK physically," Reagan said. "It's just the speed of things changing, if mentally he would be OK, but he handled it very well."
There are a couple of reasons Visinia has both survived and thrived on KU's line despite having next to no college experience. The first is the strength. At 6-foot-4, 360 pounds, the guy is a mauler who likes to be physical and is not afraid of close-quarter contact. The second is his footwork.
"He probably has as good of feet as any lineman I've ever coached," Reagan said. "Especially for a guy his size."
The third demonstrates just how intelligent Visinia is and why his brain as much as his braun has allowed him to encounter success at such a young age.
"I think you definitely have to focus on technique more," Visinia said. "Because, at this level, technique really does come into play. It could be as simple as a six-inch step instead of a three-inch step, but you just really have to try to execute those small things. That's constantly going on in my mind."
Being put into the lineup on the fly can be intimidating for any player. But that's particularly true for freshmen. Reagan said the experiences that Visinia is soaking up this season will be "invaluable" for his future, and Visinia said the way Reagan and the KU coaching staff prepared him and his teammates made the move easier to handle.
"Coach Reagan did a great job when I first came in of getting me ready," Visinia said. "In camp and in practice, I was put under so much pressure that when I went out there on the field it was like second nature and I didn't really feel any pressure. It was more like, 'Oh, I'm used to this,' and I didn't dwell on it, I just went and did what I needed to do."
That's not to say everything came easily. Far from it, in fact. Visinia said he had plenty of down moments while waiting for his chance to play, but thanked teammates, family members and hard work for helping him get through them.
When he first reported to campus, Visinia, like most freshmen, had dreams of playing right away and becoming a big part of the program. Now that he has, Visinia said his hope for his future burns hotter than ever.
"When the time comes for me to step up and be a leader for this team, I'll definitely play my role," he said. "If we can keep progressing like this, we can get a group of five guys that'll be rock solid and tight and we could really do something to help improve this group that has struggled for years."
Several of his teammates and coaches agree, but, their wisdom keeps them thinking more about the here and now.
"That's a great thing, thinking about him for the future," Cummings said. "But we're gonna need him to execute pretty well this Saturday, too."
More like this story on KUsports.com