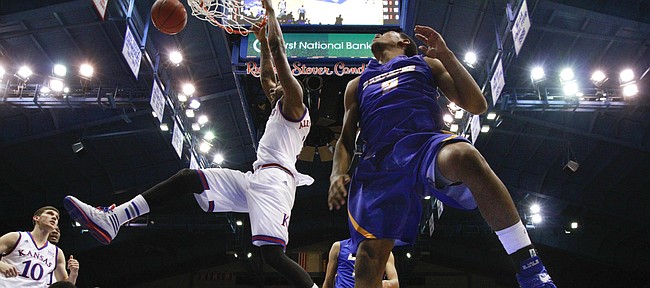 Kansas University freshman Cliff Alexander iced his right hand after the game.
"I hurt my wrist last game," the 6-foot-8 Alexander said, bruising his wrist off a violent dunk in the second exhibition game against Emporia State. "It's OK though."
During Friday's 69-59 victory over UC Santa Barbara, Alexander had nine points and four boards in 12 minutes. He showed a nice touch on a 15-footer the second half.
"It was 'No, no, Good shot Cliff,''' KU coach Bill Self said with a smile. "Cliff ... he acted like he knew what he was doing. Cliff played well. He got two quick fouls early, but I thought Cliff did some good things," Self added.
Bulldozed:
KU freshman Devonté Graham took a charge from UCSB big man Alan Williams during the second half that impressed Self.
"It was a good play to draw the charge. It's probably maybe a little acting on that one, but the guy weighs 270 pounds and you weigh 170, you're going to look like you fall hard," Self said.
Stats, facts:
KU won its 13th straight season opener dating to 2001-02. KU won its 42nd straight home opener dating to the 1973-74 season. Bill Self is 12-0 in openers at KU. ... KU's 69 points were lowest total in an opener since scoring 68 against Vermont in the opening game of the 2004-05 season. It was KU's lowest margin of victory in an opener since a 68-61 win over Washburn on Nov. 19, 2004. ... Six Jayhawks have scored more points than Graham in a debut since the 1989-90 season. He had 14 points. Xavier Henry had 27, Josh Selby 21, Andrew Wiggins 16. Perry Ellis, Mario Chalmers and Greg Ostertag had 15. ... Perry Ellis had his seventh career double double (13 points, 10 boards). ... Jamari Traylor had 10 rebounds.