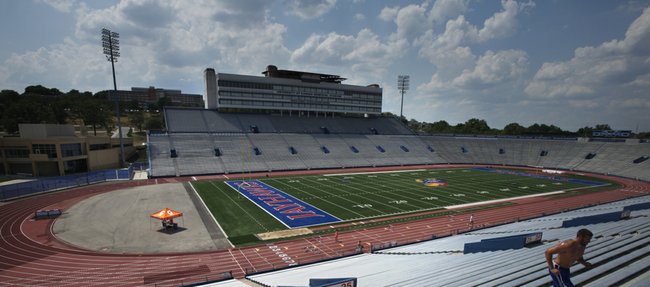 Kansas University's athletic department has hired HNTB, a Kansas City-based architecture firm, to draw up blueprints for Memorial Stadium's future renovations, but there are no plans to break ground any time soon, according to KU athletic director Sheahon Zenger.
"We will have the designs in place," Zenger said during a recent interview with the Journal-World, "so that when we have momentum and the deck is cleared, we'll be ready to go."
According to Zenger, HNTB is in the final stages of developing its renderings, and those plans currently are being vetted through the appropriate groups on campus, by members of the athletic department and outside stakeholders.
What's the holdup?
"It's not lost on me and shouldn't be lost on anyone else that we need a little momentum in football to inspire the donors whose help we're going to need," Zenger said.
Kansas, which sits in the middle of a stretch of five consecutive losing seasons, has gone 9-39 in four seasons since the forced resignation of Mark Mangino. That mark includes a 3-9 season in 2013, Charlie Weis' second season as head coach. Weis signed a five-year, $12.5 million contract that expires at the end of the 2016 season.
A 3-9 record does not qualify as momentum, but it did end a string of five consecutive seasons with diminishing victory totals (12, 8, 5, 3, 2, 1). The Jayhawks enter 2014 with their most experienced roster under Weis, particularly on defense, but will have relatively inexperienced sophomore Montell Cozart at quarterback.
Zenger isn't waiting for football fortunes to turn around before tackling other facilities additions and improvements.
With major projects still ongoing at Rock Chalk Park and progress on the DeBruce Center, which will house James Naismith's original rules of basketball, and the Fieldhouse Apartments right around the corner, Zenger said the focus was on finishing those so that all of the department's attention — both in terms of fundraising and planning — could be devoted to Memorial Stadium.
Although no exact price tag has been determined because plans and possibilities for upgrades and renovations at Memorial Stadium vary and remain a work in progress, estimates put the first-phase value alone around $60 million.
Zenger has said all along that the project, whenever it gets underway, likely would be executed in steps.
The first phase, which could include lowering the field and removing the track, would be the most significant.
"The key is to bring the stands in and make it more intimate," Zenger said. "Engineers are telling us we can lower the field. We don't know if we would or how much."
It's questions like those that make up the vetting process of which Zenger spoke.
Once the first phase is past — again, at least a couple of years from now — the subsequent steps would address things like adding club-level seating to the east and west sides of the stadium and giving both the bowl and the south end zone a facelift.
"The track will come out regardless," Zenger said. "Where we're at is, which is the greatest priority? We know that the field and the west side are the first priorities, and they could be combined."
Because of the stadium's status as a true memorial, Zenger said the department and architects have taken great care to honor the past while moving the venue into the modern era.
For too long, Zenger said, athletic facilities at KU were left alone. While those that existed certainly served their purpose and were great sources of pride for the fan base even then, leaving them unchanged for so many years has made upgrading them now a greater challenge.
Zenger, who is in his fourth year as KU's athletic director, said the task at hand would have been even more difficult had it not been for the proactive nature of his predecessor, Lew Perkins, and his staff.
"You don't want to look backward," Zenger said. "But we really went through a period of time here in the not-so-distant past of two to three decades of not really building much or renovating our facilities. I'm very grateful to the regime before me that was able to renovate Allen Fieldhouse, renovate and build more on the baseball stadium and then build the football practice fields and the football building. That was really a yeoman's work."
During his time at Kansas, Zenger and his staff have built upon that progress. But with football being king in the current landscape of college athletics, the Memorial Stadium makeover might carry the most weight, and Zenger appears to be well aware of that.
"We're deeply embroiled in several significant projects at this time," Zenger reiterated. "And we're trying to clear the deck all of these very important projects so we can turn all focus and energy toward Memorial Stadium."