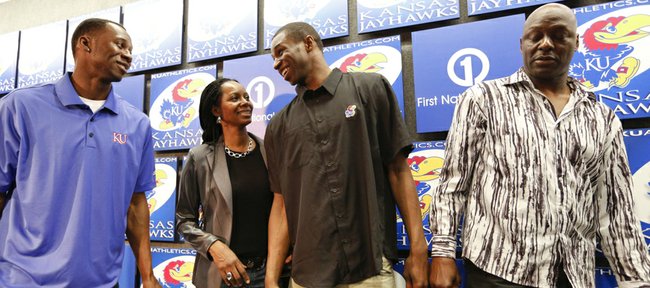 Photo Gallery
Andrew Wiggins declares for the NBA Draft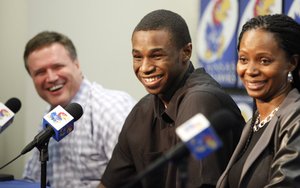 Images from a news conference in which Jayhawks' freshman guard Andrew Wiggins declared for the NBA Draft.
Now that Andrew Wiggins has made it official and declared for the 2014 NBA Draft, the next step for the 6-foot-8 Canadian sensation is to make sure he's selected No. 1 on June 26 in New York.
"There is. That's just the competitive side," said Wiggins, Kansas University's 6-foot-8 freshman guard from Canada, when asked if there's an "inner drive" to be taken first in the 30-team draft. "You want people to label you as the best player," added Wiggins, who averaged 17.1 points and 5.9 rebounds per game in his one season in Lawrence.
Wiggins, who signed a letter-of-intent with KU last spring as the most highly publicized high school basketball player since LeBron James, fulfilled his one-and-done destiny Monday, becoming the first of three contenders for the top pick to throw his name in the NBA lottery hat.
The other contenders for No. 1 — teammate Joel Embiid and Duke's Jabari Parker — have yet to decide whether they will turn pro or return to school for a second season.
"I'm just confident I'm ready, and it's always been a big dream of mine to follow in my father's footsteps and play in the highest level of basketball," said Wiggins, who met the media in a news conference in Allen Fieldhouse with dad Mitchell, mom Marita Payne-Wiggins, brother Mitchell Jr. and coach Bill Self.
"It wasn't an easy decision because the fans show me so much love here, and my teammates … it's just fun being around them and the coaches, and it's fun playing in Allen Fieldhouse. I wish I just had more time. College goes by so fast. I can see why people stay all four years," Andrew added.
Mitchell Sr. played six years in the NBA — for Chicago, Houston and Philadelphia.
"I mean, the biggest challenge is to know who you are and be confident in your abilities and what you're about. He's very grounded," Mitchell Sr. said. "I'm just listening to him now, and I'm just thinking about when he was that little-bitty kid that was dirty and not listening, and now he's a young man that I think gets it. I think he's going to do great."
Mom Marita confessed that "for Andrew's progression, the best thing is that he's not injured and he's able to right now go ahead and complete part of his goals because there's many other goals that he has to complete and to go after. Every day is a new day. He has no injuries, and he's ready to go."
Self said he was in favor of Wiggins leaving.
"Opportunity is certainly knocking on the door," Self said. "We're very proud of him, very excited for his future, and certainly as good as he's been for us, we know he's only scratching the surface of what he'll do moving forward. I think this is a great decision and one that we support 100 percent."
Wiggins said he has become a better player following his stint at KU.
"I think I improved a lot. There was never really a non-competitive practice we had," Wiggins said. "When you have a legendary coach like coach Self, you get better every day learning new things."
Wiggins, who is in the process of finding an agent, said "it would be really good to play in Canada (for Toronto Raptors), play in front of my home crowd every game so it would be nothing but love there."
Yet he'll go anywhere.
"I'll play with whoever wants me," he said.
He leaves with his family giving a thumbs up to KU.
"What he wanted was at the end of the year, to have a (national title) parade, and so he's disappointed about the way it finished, but it's a great choice," Mitchell Sr. said of KU. " I think if he had to do it again, he'd make the same choice."
Embiid update: Self said 7-foot freshman Embiid, who attended the news conference with several of his teammates, was not ready to make a decision on his future.
"Joel is gathering information, but not so much information on where he will be picked because it's going to be the same thing. He's going to go high. The decision he needs to make is what's best for him over time, whether to stay another year or whether to go. I can see him doing either one of them. I think you could make a case either one would be a good decision. He's not quite like Andrew, who has been playing ball his whole life. This kid has played three years. He's still trying to figure it out,"
Self said, "I don't think he's close to making a decision at least in the next few or several days. I think it's something that will probably play out for a while."
Self disappointed in Tharpe: Self commented on an risqué photo of junior guard Naadir Tharpe that surfaced on Twitter on Sunday. The photo, which showed Tharpe and an unidentified woman, included nudity.
"Obviously we are aware. It was brought to our attention, and (I) certainly am extremely disappointed with what's transpired and the judgment that went along with it. To say anything else publicly is something that would be inappropriate at this time, but it will be addressed, and it will be handled internally," Self said.
Academic responsibilities: Self said Wiggins would "fulfill his academic obligations" the rest of the semester.
"He's right on track academically," Self said. "We've had a perfect APR for seven years in a row. He knows he has to finish in order for us to (continue that). There's no question (he will)."
Honors: Wiggins on Monday was named to the 10-member Wooden All-America Team by the Los Angeles Athletic Club and Associated Press second-team All-America. Embiid was named AP All-America honorable mention.
More like this story on KUsports.com